 "I want to play for as long as I can", says star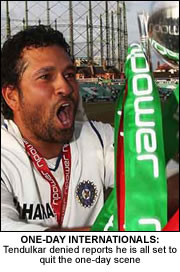 INDIAN batsman Sachin Tendulkar has denied reports he is set to retire from one-day cricket.
Reports had suggested the 34-year-old would call an end to his illustrious one-day career after the current series against England.
But the said the thought "had not crossed his mind".
"The thought of retirement has not crossed my mind," Tendulkar told PTI. "I am still enjoying the game very much and want to play for as long as I can. Cricket means a lot to me."
Speaking to the Times Newspaper, Tendulkar did admit one-day cricket was pushing the limits of his fitness.
"I enjoy every moment I have on a cricket field, but the recovery times between games these days are difficult, especially for one-day internationals, and that's my major obstacle," he said. "It does take its toll on the body. When you are 22 or 23, you recover a lot more quickly. But at 34, it's not so easy."
Tendulkar will return to Lords tomorrow aiming to beat England and take the one-day series 4-3.
His performances in both the Test and one-day series has been sublime. He narrowly missed three centuries scoring 99, 94 and 91.