 Five others jailed for total of 63 years in prison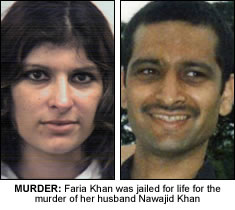 A WOMAN who paid a group of aspiring rap stars £200 to attack her husband before she callously ran him over in her 4X4 has been jailed for life.
Faria Khan, 28, orchestrated the attack on her husband, Nawajid Khan, 31, just weeks after filing for divorce, Sheffield Crown Court was told.
The gang – four members of rap band Dem Boyz – attacked her husband armed with knives and baseball bats as he walked to work on January 27 2008.
As Nawajid staggered away following the attack the jury was told Mrs Khan drove at him in her 4×4 killing him.
Seconds later she crashed the car and fled the scene in a taxi leaving her estranged husband for dead.
Judge Michael Murphy sentenced Khan, of Pitsmoor, Sheffield, to life in prison and said she had to serve a minimum of 20 years before she is considered for release.
The court was told Mrs Khan was given a number for the rappers by her friend Neelam Kauser who was dating one of the men.
Peter Kelson QC, prosecuting, told the jury a text message sent from Ms Kauser to her boyfriend Brian Yorachi, 19, and his friend, Kanu Kangi, 21, suggested a price had been placed on Nawajid's life.
He said: "She (Khan) hired these men, she orchestrated the attack upon her husband, she drove them to the scene of the attack and she was the driver of the vehicle which killed him."
He told the court Mrs Khan's marriage had been on the rocks.
Nawajid, who worked as a chef in Sheffield, walked out on his wife in May last year.
Just weeks before his death Mrs Khan had filed for divorce saying he had been abusive towards her.
When arrested by detectives she admitted setting up the attack on her husband but said it was only to 'frighten and scare' him.
Judge Murphy jailed Kauser, 18, of Tinsley, Sheffield for a minimum of 14 years.
He gave Kangi and Yorachi, both of Fir Vale, Sheffield, life sentences and ordered them each to serve a minimum of 17 years.
Daniel Vincent Moore, aged 23, of Oxford Street, Upperthorpe, received an 8-year sentence for conspiracy to kidnap and commit GBH.
Abdiquadar Muse Mohamed, aged 18, of Constable Road, Gleadless Valley, received a 7-year sentence for conspiracy to kidnap and commit GBH.