 PC Rajesh Patel and PC Adrian Perkins honoured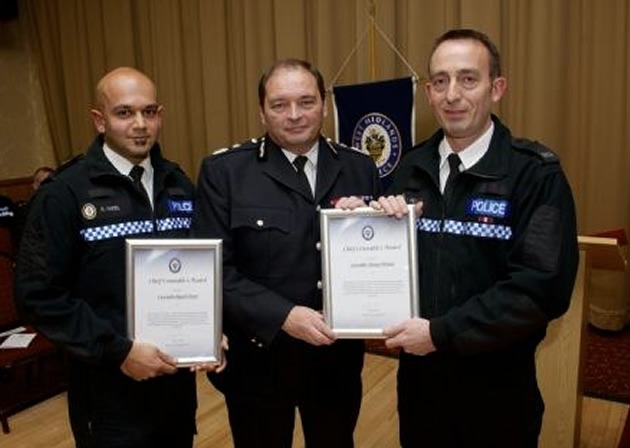 Two police officers have been commended for their bravery, after forcing entry into a property where a woman suffering from depression had turned on the gas and locked herself in her home.
PC Rajesh Patel and PC Adrian Perkins rushed to the house in Winson Green on April 13 last year after a young woman called police saying her mother was suffering from depression and had locked herself in the house.
Officers made numerous attempts to contact the lady inside the address but quickly noticed a strong smell of gas coming from the letter box.
Despite having no protective equipment and risking their personal safety, the officers entered the building and found the woman in an upstairs bedroom where she was in severe distress. After calming the lady down officers persuaded her to speak with medical staff and go to hospital.
PC Patel and PC Perkins were awarded a police bravery award during a special ceremony at Edgbaston's Tally Ho centre.
Chief Superintendent Emma Barnett, commander of
Birmingham West and Central Police Unit
, said: "These officers acted swiftly and without thought for their own safety to bravely save a lady's life.
"Their actions not only safeguarded a vulnerable person but also protected a whole community who could have been at risk if the gas had ignited and sparked an explosion.
"Their actions shows, in the most obvious way, our commitment to serving our communities and protecting them from harm and it is only right that their bravery is commended."
The lady later received specialist medical care for her condition.