 THE DEVASTATED family of a frail 81-year-old woman found dead in her home have appealed for information leading to her killers.
Mother-of-five Mohinder Kaur, who was known to family and friends as Shanti, was found dead in her Kings Heath home on Saturday August 25. She suffocated after being gagged and was found lying dead in her hallway by her son.
In a heartfelt appeal, her two sons, Santogh and Kirpal Singh, joined police in appealing for anyone with any information to come forward.
Santogh Singh, 50, choked back the tears as he described his "happy" mother.
"First of all I would like to say that myself and my family are in shock that someone would do this to our mother", he said.
"My mother was a very happy person that was well known throughout the community where she lived. She was not only a mother to us but most of the people who knew her. I would like to appeal to the public please, please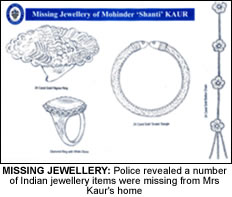 help us, come forward if you have any information at all that can help the police."
His brother, Kirpal Singh, also made an appeal in Punjabi.
He said: "All mothers are the same, every human being has a mother. We have lost a mother and you cannot replace your mother. Our mothers name was Shanti and she was our protector. She's gone now and we want her soul to be at peace. The whole family doesn't know what to do so if there is anyone who knows anything please contact the police."
Mrs Kaur was last seen alive on Friday August 24 at 8pm. The following day her son dropped by his mothers house, found her front door unlocked and saw her lying on the floor of her hallway.
By the time the ambulance arrived she had already died. 
Det Chief Insp  Steve Bimson who is leading the investigation also revealed a number of items of jewellery were also missing from Mrs Kaur's home.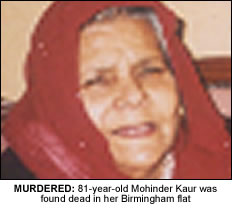 The items of Indian jewellery include two rings, a button chain, two gold bangles the end of which are formed in the shape of a snakes head and a further 20 thinner gold bangles.
He appealed to anyone who may have been offered these items for sale.
"I would like to appeal to anyone who may have seen these items of jewellery or offered items like these for sale.
"I would also like to appeal to anyone who works in the jewellery trade who may have seen these items. The person or persons who approached you with this jewellery would have detailed knowledge of Mrs Kaur's death."
He added: "I would like to appeal to anyone who may be able to provide information to this enquiry. I would be interested in speaking with anyone who may have seen Mrs Kaur during the Friday afternoon and evening and who can assist us with details of her exact movements. I am also interested in anyone who can provide any information as to the identity of the person or persons responsible for this terrible crime. It is vital that we identify the offenders and bring them to justice."
Anyone with information is asked to contact West Midlands Police on 0845 113 5000 or via Crimestoppers on 0800 555 111.