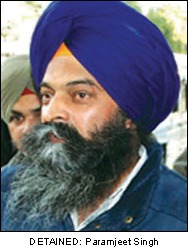 THE DAUGHTER of a Wolverhampton grandfather on trial for terrorism offences in India has described the torment her family are going through as they try to secure his release.
53-year-old Paramjit Singh has spent nearly eight months in an Indian jail following his arrest last December.
He was arrested and charged after police said they found a number of explosives and firearms on his land – a claim that he has always denied.
And his daughter, Ravi Ghakal, who has campaigned for her father's release, has revealed how the ordeal is tearing the family apart.
"My Mother is suffering from depression and undergone surgery for a knee operation from which she has not recovered well," Ms Ghakal told The Asian Today.
"The stress of these proceedings has devastated a family and a whole network of friends and family who seek the release of my father."

The father-of-four, who was falsely imprisoned in October 2003 accused of travelling on a false passport, has peacefully campaigned for change and reform in India for a number of years. He pursued his hobby of singing and became an international folk singer under the name of Punjab Singh in the 1980s.
He travelled to India in October last year to furnish and decorate the family home in readiness for a planned trip back to the country this summer with his family.
He was originally due to return back to the UK on 13 December but decided to extend his stay for the wedding of a family friend.
But four days before he was due back in the UK he was arrested, along with two other men, as he made his way back to the family home having attended a religious event with four friends.
Since his arrest in December Mr Singh's family have said he has been tortured and his case frequently stalled, with witnesses failing to appear in court and failure to take Mr Singh and his co-accused to court on the day of his hearings.
In April this year Mr Singh was also charged with looting and murder. His lawyer, Kharag Hundal, successfully had all charges dropped after it emerged Mr Singh was not even in India at the time the alleged murder took place.
This latest incident, Ms Ghakal said was typical of the way police were attempting to "derail" her father's trial.
She added her father recently went on hunger strike to force the authorities to bring his case to court.
"I received communication that my Father had started a hunger strike, in protest against the police for not complying with court orders and maliciously trying to affect the trial", she said.
"Not surprisingly this was picked up the Punjab media and the police then reassured they would co-operate.  Why did it take four days of no food for my Father to get attention to his matter?"
The family are also being helped in their cause by Fair Trials Abroad, a legal organisation in London who campaign for British citizens held abroad.