 Akshay Kumar on the highs of Heyy Babyy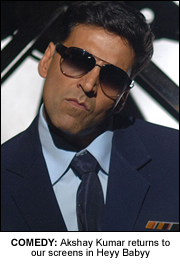 Akshay Kumar spends little time away from the big screen. So it's unsurprising that he returned to the UK box office on Friday in the comedy 'Heyy Babyy'. If you're familiar with the Hollywood film 'Three Men and a Baby', you'll feel right at home with 'Heyy Babyy'. While Akshay has in the past firmly established himself as the action hero of Bollywood, his latest venture into the world of comedy has brought him a legion of adoring fans.
His latest film 'Heyy Babyy' shows just how good he has immersed himself in the comedy genre. We caught up with Akshay to find out just what he has to offer in Sajid Khan's directorial debut.  
Tell us a bit about your forthcoming film 'Heyy Babyy'
Heyy Babyy is a story about three care free party loving room mates who live in Sydney. They live the typical bachelor's lifestyle until one day a little baby girl is left on the doorstep of their apartment. This totally transforms their lives and the guys soon find themselves having to change from bachelors to responsible guardians to the baby. My character Aroush is one of the three bachelors; he is always the centre of attention and a bit of a womaniser if you ask me.
The film is Sajid Khan's directorial debut. What was it like working with Sajid?
Sajid is brilliant a true pro; you wouldn't think this is the first film he has directed. He has an almost natural ability to get the best out if his cast and is always interested in listening to the thoughts and concerns his cast may have which is a good quality for a director to have.  
How do you think he will fare as a director in the Indian film industry?
I think he is definitely a director to watch out for and the film Heyy Babyy will help him cement his position in the industry. Sajid will play a huge part in helping to take Indian Cinema to international audiences because of his natural flair, creativity and ability to create storylines that really relate to people from all warps of life.
Back to the film, you're alongside a great cast – Fardeen, Vidya and Riteish. Rumour has it you guys were forever playing pranks on the set of Heyy Babyy – is this true and if so tell us a bit more!
Well you know me… I do like to have a laugh. This one time I called Vidya Balan pretending to be an Australian journalist, and said I wanted to interview her. Vidya agreed, and spoke to me for 20 minutes answering each and every question. Little did she know that I had put her on speaker phone and that the entire cast and crew were listening in on the conversation. It was hilarious. 
You're a dad…was it easy working with the little kid in Heyy Babyy?
I was better equipped then Fardeen and Riteish but I think we all managed pretty well. We all had to be very patient as you can imagine but overall it was a really enjoyable experience. I know I speak for the guys when I say we miss her very much.
How do you think Heyy Babyy will fare at the UK box office?
I am hoping the film will do well; it should be a hit with British Asians in the UK because of its comical value all star cast and special appearances. 
You've dabbled in comedy and action in the roles you have played. Do you have a favourite?
I enjoy playing both, the comedy roles are always great fun filming where as the action roles are more physically challenging and allow me to incorporate some of the martial arts skills I have learned over the years.
Finally, what other films have you got lined up?
I have a number of films I am working on lined up for release in 2008. Bhool Bhulaiyaa, Tashan and a film called Welcome will be releasing later this year so keep your eyes peeled for them.
Heyy Babyy is in cinema's now