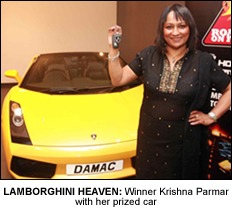 A NOTTINGHAM optician has landed the biggest prize of her life after winning a Lamborghini.
Mother-of-two, Krishna Parmar, scooped the super-car after she was entered in a prize draw with property giants Damac Properties after purchasing a luxury two-bed ocean-fronted apartment in Dubai from the company.
An elated Krishna told The Asian Today she was finally living the super-car dream.
"As my daughters approach their teenage years, winning the car could not have happened at a better time in my life," she said.
"I have always loved the idea of driving a sports car with the top down and now DAMAC Properties has made it a reality!"
Commenting on the draw, Peter Riddoch, CEO of DAMAC Properties, said: "Krishna has bought properties in Dubai that will see exponential capital growth and provide substantial rental returns in the interim. We are delighted that such an exciteable and deserving winner has won this fortnightly draw."
Krishna qualified for the draw after buying a two-bedroom apartment on the 10th floor of 'DAMAC Heights' in Dubai Marina. Krishna plans to use the luxurious ocean-facing apartment as a holiday home for herself and her two daughters.
"Dubai is close to my heart as I have many friends living there whom I visit regularly," she said.
"I have thoroughly enjoyed every visit to Dubai and I love the thriving cosmopolitan community where people are friendly and the standard of service is outstanding. I also enjoy the fact that the sun always shines in Dubai!" 
It looks like that sun is now well and truly shining down on Krishna!