 PCB look to Yousuf to reverse ICL decision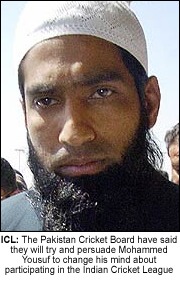 THE PAKISTAN Cricket Board have been left stunned after Mohammed Yousuf joined the Indian Cricket League.
News of his involvement in the controversial league was revealed at a press conference in Mumbai yesterday alongside fellow Pakistani's Inzamam-ul-Haq, Abdul Razzaq who quit the Pakistan team just hours before the ICL announcement, and Imran Farhat.
PCB Chief Operating Officer Shafqat Naghmi told reporters they would try and persuade Yousuf to change his mind.
"Yousuf is our key batsman, a national asset and the team needs him. We will make all efforts to convince him to change the mind even if he has joined the ICL", he said.
"Yousuf is a wise man and sincere to the country. I believe he will not make any decision against the country's interest," he added.
While he made no mention of the other three, he did confirm the PCB will look to oppose life bans on any player defecting to the ICL.
Naghmi also refused to concede the players joined the ICL after they were dropped for the forthcoming Twenty20 World Championships.
While it was a certainty Inzamam would not be selected, eyebrows were raised when Razzaq, Farhat and Yousuf were omitted from the side.
Just last week Razzaq said he was pondering his international future with Pakistan after he was not named in the squad.
"If this is the way I am going to be treated after serving the country honestly and diligently," Razzaq told GeoTV, "I should be the one now to decide when to make myself available for national selection."
But Naghmi dismissed the suggestion the players Twenty20 omission was to blame.
 "The Indian cricket board has also sidelined Dravid, Ganguly and Tendulkar from the Twenty-20 Cup. South Africa has dropped Kallis while Kiwi skipper Stephen Fleming has been left out also. So if we preferred those who suit this demanding form of cricket, I think there's nothing wrong with it," he said.