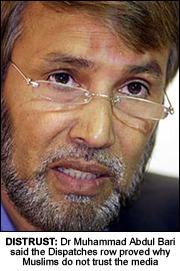 THE CHANNEL 4 Dispatches row proves why Muslims distrust the media, the Muslim Council of Britain has said.
Speaking a day after West Midlands Police revealed they had lodged a formal complaint over the way programme makers 'spliced' speeches together to make them appear more 'extremist' in the programme 'Undercover Mosque' , the Muslim Council of Britain accused the channel of 'stigmatising' the Muslim community.
Dr Muhammad Abdul Bari, Secretary-General of the Muslim Council of Britain, said: "The joint statement from the CPS/West midlands Police will justifiably reinforce the distrust with which many Muslims regard sections of our media.
"It is of course right that hate speech must be vigorously combated. Documentary makers have an important responsibility, however, to do their research properly and carefully identify those who are actually inciting hatred.
"They must take great care to avoid unfairly stigmatising whole institutions and groups of people.
 "It is deeply regrettable that Hardcash Productions, who were the producers of the Undercover Mosque documentary appear to have resorted to some underhand methods in order to engage in hatemongering against some mainstream UK Muslim institutions, including the London Islamic Cultural Centre, the UK Islamic Mission and the Markazi Jamiat Ahl-e-Hadith".

His view was also supported by the Ramadhan Foundation. Shazad Anwar, Chief Executive of the Foundation said "Channel 4 should hang their head in shame and apologise immediately for the hurt they have caused."
There was more bad news for the broadcaster this morning after it emerged the Metropolitan Police revealed it was assessing the contents of another Dispatches programme 'Britain under Attack' which was broadcast this week.
A Channel 4 spokeswoman said in a statement that the police had requested untransmitted programme and research material, but it would not hand over the material until a court order had been obtained.