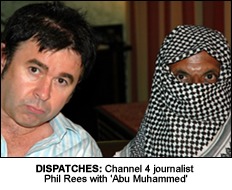 CHANNEL 4 has moved to defend itself after it was criticised for airing the views of a Muslim extremist who defended the July 7 London bombings.
The Dispatches programme, 'Britain under Attack', was broadcast last night and featured an interview with a man under the name 'Abu Muhammed. He has already been banned from Britain because of his views.
Disguised by a scarf he told journalist Phil Rees the July 7 attacks in which 52 people died was justified and urged Muslims to retaliate against 'non-believers'.
"Of course, it [July 7 bombings] was very justified because Allah says if someone is committing aggression against you, commit aggression towards him", he said.
"Even if you need to deceive the British government and get a visa to get into the country to perform your duties as a Muslim.
"If Allah orders us to terrorise the kuffar (non-believer) and I am doing something that will be labelled as terrorising them then I will be happy to have a label on my head that says I am a terrorist."
The Channel defended their decision to air Muhammed's views after criticism.
In a statement released yesterday the broadcaster said: "The interview is featured as part of a balanced examination of the roots of Islamic extremism in the UK.
The investigation also features moderate voices from within the Muslim community which reject the more violent interpretations of Islam."
And journalist Phil Rees who interviewed Muhammed told the Media Guardian "A policy of excluding extremists is not working. Bush's dictum that "you are either with us or the terrorists" is being applied here and the results are simply pushing more young people into the terrorists' camp. MI5 admits monitoring at least 2,000 British Muslims who are "actively promoting violence".
He added: "Journalism has a duty to reflect and not condemn the views of people such as Abu Muhammed. In denying them a voice, it is contributing to the radicalisation of British Muslims."