 Willard Carroll on the joys of making 'Marigold'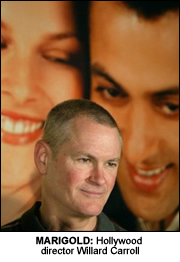 Ask Hollywood director Willard Carroll what led him to Bollywood and he'll answer 'Chori Chori Chupke Chupke'. The famous and much-loved Salman Khan starrer kickstarted a love for Bollywood and one that has led him to 'Marigold' – a very Hollywood film with all the romantic ingredients we've come to love from Bollywood. We caught up with Willard to find out what drew him to Salman and all things Bollywood…
Why would a mainstream Hollywood director think of a story about an adventure to India?
On my first trip, I fell in love with India and the spirit of Indian movies, and decided I wanted to make a film there that might combine Bollywood and Hollywood filmmaking styles to tell a story that could be accessible to a Western audience, told from an American's point of view.
Most of your cast and crew were Indian. Do you think making "Marigold" was almost like shooting an Indian film?
The best filmmaking professionals anywhere in the world are the same: serious about what they do, dedicated to high standards, hardworking, and uncomplaining. I felt completely at home making this picture in India. And, likewise, I believe any of the Indians who worked on "Marigold" would feel equally at home on a movie set in Hollywood, London, or anywhere else. The filmmaking talent in India is world-class, and we had some of the very top people on our film. 
Is the story of "Marigold" reflective of your first journey to India? Tell us about the experience of your own adventure
On my first trip to India, to Chennai, I was with a large group of Americans attending an entertainment conference. Tom Wilhite, the producer of "Marigold," had been invited to go, but couldn't make it. He said, "I was just offered an all-expenses-paid trip to India but can't go." I said, "Are you nuts? You're giving up a trip to India. What do I have to do to get that trip?" During the 10-day trip all I had to do was make a presentation about filmmaking and take part in a panel. The rest of the time was generally open. All of the other Americans stayed in the hotel most of the time. Whenever I travel – even after a long international flight – I immediately like to go out, shop, walk around, and generally get lost. When I said I wanted to go to an Indian movie, I was told where the nearest multiplex was. I said, "No, I want to see a movie in a big, old stand-alone movie theater. And that's when I wandered into "Chori Chori Chupke Chupke"…
Why did you choose Salman Khan for this film?
 "Chori Chori Chupke Chupke" was a revelation! I'm a movie fanatic, will watch almost anything, and as a result know a lot about movies from all over the world. But, at that point my Bollywood knowledge was surprisingly limited. The experience of seeing this movie, in a theater full of people at two in the afternoon was a life-changer. I loved the exuberance of the film, and was immediately struck by Salman's charisma and his command of the screen. I came back to Los Angeles and watched literally 100 Bollywood movies on DVD, including all of Salman's. He was my one and only choice for the movie that I decided I wanted to make. I wrote the part of Prem specifically for Salman. 
Which of Salman Khan's previous films are your favorites?
I've seen all of Salman's films. My favorites are "
Hum Dil De Chuke Sanam
" and "Hum Saath-Saath Hain."
Why did you choose the name Marigold for the film?
The marigold flower is a significant (and visual) part of many Hindu ceremonies, and Marigold also seemed like an appealing Western female name.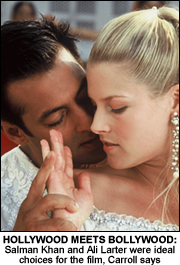 Who were the actors you short-listed for Ali Larter's role? Or was she your first choice?
After writing the first draft of "Marigold," Dianne Crittenden (the US casting director), the producers, and I did the normal thing and put together a casting list: a mix of stars, emerging names, and unknowns…Americans and some British actresses from mid-20s to late-30s. But I always wanted a newer person because the character of Marigold Lexton is, after all, an aspiring star, not someone who's already achieved universal fame. And the movie takes place when Marigold is at a decision-making crossroads regarding her professional contentment and personal happiness. As a director, I find it rewarding to work with lesser known but emerging actors who I've seen in other parts and believe could ultimately become stars. For example, when I cast Angelina Jolie in "Playing by Heart" she was not a star and we had to convince the financiers to go with her. But I'd seen her in the film "Hackers" several years earlier and was immediately struck by her talent and on-screen power; in fact, I wrote the part in "Playing by Heart" specifically with her in mind. In Hollywood, as in India, financiers naturally push for big names. I had gotten to know Ali personally and professionally from her supporting role in the film "Three Way" that I'd produced, and I just felt she'd be perfect as Marigold. I was able to prevail and cast her. And, indeed, I think she is the perfect Marigold. 
Did Salman and you debate or discuss who should play the lead opposite him?
Yes, we discussed numerous actresses, and we ultimately agreed that Ali was most right for the part.
How did you decide on the casting of other actors from India? Did you audition them? Did Salman recommend anyone?
We auditioned most of the actors, although I was familiar with the work of the more established ones. I think most of them were surprised that I'd seen their films and could actually talk about specific scenes and characters they'd played. Salman was very much part of our discussions about the supporting cast. For example, he thought Vikas Bhalla was a great choice for the character of Raj, the arrogant Bollywood actor, because Vikas has such an innate talent for comedy while still retaining the inherent dignity of a character. I must also mention that Suchitra Pillai was the second person, after Salman, who I cast. She was my one and only choice for Rani, the young production assistant who befriends Marigold. When the start date for the film was finally set it looked like Suchitra might not be available, but things ultimately worked out. It was destiny that she be in the picture, because I couldn't imagine anyone else in the part. Suchitra (along with our Indian casting director Rajesh Latkar) was also instrumental in helping cast many of the roles. She had terrific suggestions for new, young actors we might not have been aware of. 
What is your opinion of Salman as a person? 
From the first time we met, he and his family were immensely warm and generous. Especially considering they really didn't know who I was or what my intentions were. Since then, Salman and I have become genuine friends. It's going to be a life-long friendship. He was deeply involved in the development of this project. I think the reason people in the Indian film business have responded so well to the film – in its portrayal of Bollywood – is because it reflects the industry as it is, not in some stylized or campy version. That all came from Salman and his advice to me about how the business there works. Additionally, the family relationships in the movie were influenced by Salman's observations and suggestions, along with those of Co-Producer Sidhartha Jain.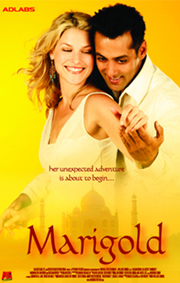 Salman Khan has gone on record saying that "I have done Marigold for Willard." Please comment.
As I said, we've become true friends. Many times this movie could have fallen apart, but he remained committed to it. In India, just as in Hollywood, movies get made because of stars. Salman's dedication to this picture is the reason we were able to make it. 
You have used a Bollywood song-and-dance element in making the film. Were you comfortable with this?
Terrified. But comfortable.
You shot extensively in palaces in Rajasthan. How was your experience?
We had a terrific experience at Khimsar Fort, which provided the major setting for Prem's family home. We stayed there while we were shooting at that location. They were extremely hospitable. I wanted a palace that was believable as both a family home and a grand estate.
Were there any funny or memorable incidents during shooting?
One day Salman played a practical joke. He secretly hired actors to pose as kidnappers who broke onto the set firing fake prop guns and pretending to attempt to take him hostage. My instinct was immediately to step in and save him. I don't think this was bravery; I probably just didn't want to lose my star! We have it on film; the cinematographer Anil Mehta knew about the joke ahead of time and kept the camera running. I thought it was all very funny. Needless to say, the producers were not so amused.
Would you like to make more Bollywood films, and if so, with which actors?
Absolutely. I suppose my fantasy would be to make a film starring all of the three Khans: Salman,
Shahrukh, and Aamir. But I'm probably not alone among directors in having that fantasy! 
Your previous film was with Angelina Jolie. She recently shot a movie in Mumbai. Do you think Hollywood is looking at India more seriously?
India as a setting and as a source of inspiration and high quality filmmaking talent is definitely of growing interest in Hollywood. I think all of us – Indians and foreigners – had a good experience making the film there. We had a very well-managed production and we were fortunate in having, in Adlabs Films, a solid and professional co-production partner. 
What are you planning to do next in India?
The next film I want to make in India is a Hindi-language Bollywood-style adaptation of "The Wizard of Oz" called "Oz – Jadoo Ka Safar."
Marigold is out on nationwide release on August 17th