 England or India lined up to take part in match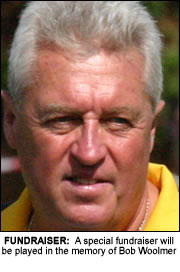 PAKISTAN will play a special memorial match for former coach Bob Woolmer.
The Pakistan Cricket Board agreed to the match after it was proposed by Woolmer's widow Gill as a special remembrance for her husband who died at the Cricket World Cup earlier this year just hours after Pakistan were knocked out of the tournament by Ireland.
Despite originally saying the team could not accommodate the match due to a packed schedule, the PCB said it was fully committed to the match.
Woolmer's widow Gill had written to the PCB and BCCI asking them to compete in a benefit Twenty20 match as a tribute to the former Pakistan coach.
"We fully support the idea of Gill Woolmer to raise funds for the academy. We have confirmed the same to her," said Ehsan Malik, PCB spokesman.
Although the tie has been scheduled for later this year, the Board for Control of Cricket in India said it was highly unlikely they would take part.
Reacting to Malik's statement, Niranjan Shah, the BCCI secretary, said, "Where's the time. We have such a tight schedule and I don't think it's possible."
Gill Woolmer had earlier proposed a Twenty20 match between Pakistan and England in August but the plan fell through as the England team had prior engagements. The PCB said it was ready to play at any venue suggested by the home board, irrespective of whether it was the BCCI or the ECB. 
A final decision on the match is expected to be made by October.