 Why it pays to be Halal for Rose Brown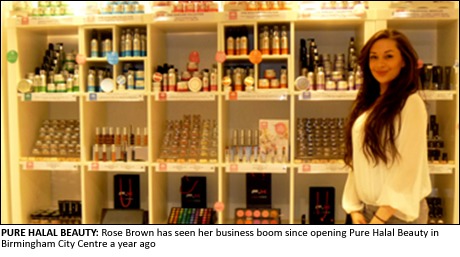 WITH all the talk of cuts and recession it's good to hear that the pioneering spirit is still with us.
Not letting the current economic climate get in the way of a good idea, 20-year-old Rose Brown set up a rather unique business venture and opened the first store of its kind in the UK last year.

Pure Halal Beauty, a store dedicated solely to Halal Certified and Vegan Registered beauty products, opened its doors last Christmas in Birmingham's Pavilions Shopping Centre.
As a vegetarian and keen follower of ethical issues, Rose – daughter of UB40 award winning songwriter and drummer Jimmy Brown – opened the store after searching the world for suitable products.
"I wanted to be able to use beauty products and cosmetics but was not prepared to compromise anymore by using products that I knew to be unethical," she said at the time.
Now less than a year after opening the business is booming.
Rose's dedication to providing the best Halal Certified beauty products has led her to create her own range 'The PHB Collection'.
Her collection has over 80 unique cosmetic and skincare products and is hand-made in the UK using the finest, all natural ingredients and eco-friendly packaging.
Rose says the response to her new range has been overwhelming: "People have been really positive," she tells The Asian Today.
"I have had support and encouragement from around the country from people who are so happy to have found us. Muslims, vegans and vegetarians love our products because they don't conflict with their personal and religious beliefs.
"Our products also appeal to the conscious consumer looking for chemical-free beauty products. People who want to use natural, ethical and beneficial beauty products are always so pleased with our phenomenal range as well as our extremely affordable prices."

As well as launching her PHB Collection, Rose has teamed up with City College Birmingham in offering apprenticeships to young students.
"This time last year I was a student myself so I understand how difficult it is for young people trying to find work," she says.
"I'm really pleased to be able to offer students the opportunity to gain vital work experience with Pure Halal Beauty."`
While many people would baulk at the idea of setting up a business in the current climate Rose welcomes the challenge, "Some people think I'm crazy but I have great belief in the products I'm selling and the prospects for expansion are looking very promising."
The new PHB range is available at Level 2, The Pavilions Shopping Centre, Birmingham and online at
www.purehalalbeauty.com