 Chatting to the woman behind SRK's new book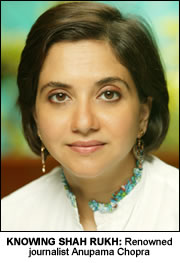 Film critic and author Anupama Chopra, is the lastest in a long list of writers to choose Bollywood superstar Shah Rukh Khan as their subject. Hailing from a noted filmi family, and having written about the industry since 1993, Anupama is suitably qualified for the task. Husband Vidhu Vinod Chopra, is an Oscar nominated filmmaker, perhaps best known for the 'Munna Bhai' series. Whilst sister Tanuja Chandra, is one of the few women directors in Bollywood. Anupama's third publication, is the first ever book on Hindi film to receive a mainstream international release. Her first title 'Sholay: The Making of a Classic', won a National Award in India for best book on Cinema. This was followed by her definitive account of 'Dilwale Dulhania Le Jayenge' ( The Bravehearted Will Take the Bride), published by the British Film Institute. Taking a break from filming her weekly movie review show 'Picture This' for Indian news channel NDTV, Chopra spoke to Steven Baker on her latest release 'King of Bollywood: Shah Rukh Khan and the Seductive World of Indian Cinema'.
How do you feel now that you have completed the book?

Relieved. I was just obsessed with the idea of writing it. Of course I had no idea how hard it was going to be to write and I'm not sure I accomplished everything I set out to do. It was very challenging, but I'm very pleased that I managed to do it; and so far the reactions have been very positive.
UK author Jessica Hines famously took 7 years to release 'Looking for the Big B: Bollywood, Bachchan and Me'. How long did this book take?

For me, from the time I first spoke to Shah Rukh about doing this book, to when it's finally going to be out, it's 4 years. I have 30 hours of taped conversation with him. I kind of followed him all over the place, e-mailed him and SMSed him in all parts of the globe. I really have been hounding him all over.
How does the man differ in real life to his reel life characters?

Actually, I have to say, he's not that different at all. In real life he's extremely energetic, extremely charismatic, and hugely entertaining. He tells the best stories. He really wants to make you have fun and to make you have a good time, and make your time time with him memorable, which you know, is what I think he wants to do on screen as well.
This is the first international level release book on the Hindi film industry. Did you have to change the writing style, to explain particularly desi things to an outside audience?

I didn't have to change my writing style, but yes there had to be a little more explaining. For example when I say Subhash Ghai, I have to say filmmaker Subhash Ghai, which I wouldn't have to do if it was purely for Indians. My editor said we had to make it a little easier for international readers, who may be overwhelmed with all the names anyway. But in terms of just style, and the tone of the book, I wouldn't change that no.
The book mentions a diverse range of places where Hindi film is popular. Is there anywhere left where SRK is able to walk to walk down the street unrecognised?

You know, I imagine the heartland of America. Perhaps, you know a street in Ohio maybe or North Dakota. But I can't imagine anywhere else. But I don't think he can walk around Los Angeles or New York for sure. And I know he cannot walk down Oxford Street in London because I was doing an interview with him once on the phone, and he was walking down Oxford Street, and he said 'OK gotta go now, I'm being mobbed'.
To what extent is this a profile of SRK, and how much is it a history of modern Indian Cinema?

Well it's actually both. The idea for the book was always to tell the story of Bollywood and tell the story of India through the life and films of Shah Rukh. I like to think of it as a tapestry with him in the foreground and lots and lots of other stories in the background.
Chapter 5 of the book looks at Shah Rukh's training with West Midlands born acting teacher Barry John. To what extent can he be credited with Khan's success?

Of course he is the only acting teacher that Shah Rukh had, and I think Shah Rukh himself says that the training he got with Barry is really what molded his acting style, and really helped him to get free with his body because there is a lot of improvisation. But I think that what makes Shah Rukh unique is his incredible ability to connect intimately with the audience. And I think that he was born with, and I don't think any teacher can teach you that.
What is your perception of foreigners in Hindi film?

Of course there was 'Rang De Basanti', you had a lead player. In 'Salaam-E-Ishq' you had a lead player. I think it's wonderful. The kind of stories I hear about westerners now coming in to make it in Bollywood, just tells me how huge Bollywood is, and how it's become a truly global phenomenal.
Many people in the industry seem to have a problem with the term 'Bollywood', how do you personally feel about the word?

I have no problems with that term. It started off obviously as something derogatory, in a way that suggested that we were inferior third world cousins of Hollywood. But I think today Bollywood is a brand, and a globally recognised brand. I think we protest too much. I think it's here to stay so let's run with it. I've travelled everywhere and you know a German cab driver said to me 'India?' 'Oh Bollywood'. How are you going to fight that?
There are many, many books on Shah Rukh Khan, What is the USP of 'King of Bollywood'?

I think the context. When I started writing this book what I really wanted to do was make connections between him and what's going on in Bollywood and what's going on in India, so I think this is pretty much the only book that does that.
OK, finally. After Sholay, DDLJ and SRK, what is the subject of your next book?

(Laughs) Oh I don't have a next book. I'm so exhausted from this one that I don't think I'm going to write a book for a few years now. I'm really consumed by television, My weekly film review show on NDTV is where all my energies are at the moment.


'King of Bollywood: Shah Rukh Khan and the Seductive World of Indian Cinema'

Releases in the UKSeptember 6th 2007