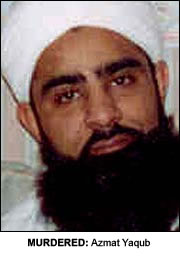 THE BROTHER of a man shot dead as he worked out in a Birmingham gym three years ago has urged anyone withholding information to be 'brave' and contact police.
Khuram Yaqub made a heartfelt appeal as police launched a new appeal on the three-year anniversary of the murder of Azmat Yaqub.
The 35-year-old was shot dead as he worked out in the Chic Physique Gym, on Foremans Road, in the Sparkhill area of the city on 29 July 2004.
Despite a number of appeals including one on the BBC Crimewatch programme, Azmat's killers have never been found.
His younger brother Khuram, told The Asian Today his brother's murder had devastated his family.
"It's been particularly difficult for my elderly parents and Azmat's young children who have been devastated and crushed by his death", he said.
"No parents or children should have to bury their son and father."
He paid tribute to Azmat saying his was "generous" "kind hearted" and a "very brave person".
He said the local community had been supportive but added police inquiries had been "frustrating" and urged anyone with any information to contact detectives.
"My brother's assassination was a very cowardly act", he said. "He was training at a community-based gym, a gym that he used to teach and instruct young children on kickboxing. Many of those young children have now grown up and have come champions in their own right at national and international level.
"Whoever planned this assassination of my brother was aware of the fact that there would be children there and as a community we need to stand up and be counted and not let these people get away with murder. If there is anyone who knows any information about my brother's murder be brave and think of his elderly parents and his young children and contact the police."
An appeal for information was also included in Friday prayers at the Birmingham Central Mosque and Golden Hillock Mosque, which Azmat attended.
Senior investigating officer, DCI Neil Beechey said police believed answers into Azmat's death lay within the local community.
"We know that this is three years on, but our aim is to try and jog people's memories and gain additional information," said DCI Beechey.
"Azmat was a hard working, kind and loving man who worshipped his family, and they continue to miss him dearly.
"He died in a violent and untimely manner in what was a cold-blooded execution where the perpetrators had time to plan ahead and consider in some detail the subsequent police investigation.
"The investigation has therefore been a very complex process with every effort being made to bring those responsible to justice.
"Unfortunately our inquiry has not presented any evidence as yet with which to form a foundation for prosecution.
"I remain convinced that the clues to solving this investigation lie with somebody coming forward from within the local community."
DCI Beechey added they were still pursuing the suggestion that Azmat's death was a contract killing.
"We sent officers to the continent to liaise with our colleagues and the very nature of this crime has certainly led us to believe that it was a contract killing", he said. 
"By the very nature of these types of killing people plan ahead, they have time to plan their escape, they are not done on the spur of the moment and they do allow people time on how they are going to commit their crime and their escape so we've certainly made no secret of the fact that we think this is what happened to Mr Yaqub."
Officers are particularly interested in tracing the occupants of a light coloured 5 series BMW that was seen to leave the scene in Foremans Road moments after the shooting. The occupants are believed to be two black males and a white male.
DCI Beechey added: "The white man and one of the black men got out of the car and went into the gym. They used a machine gun to murder Mr Yaqub before returning to the vehicle and driving off.
"Clearly, we are anxious to bring them to justice and we want to hear from anyone who thinks they may be able to identify them."
The gunmen are described as a white man, in his late 20s to early 30s, between 5ft 9ins and 6ft tall, of medium build with a thin face, very short hair, almost bald, and was clean shaven. He was wearing a baseball cap, dark coloured clothing and black-framed glasses with oval shaped lenses, possibly sunglasses. The man was thought to have something on his chin, possibly either facial hair or a plaster covering something on his chin.
A black man, in his late 20s to early 30s, between 5ft 10ins and 6ft tall, of slim to medium build, with short black hair and was clean shaven. He was wearing a black baseball cap, dark coloured clothing and black-framed glasses with oval shaped lenses, possibly sunglasses.
The BMW driver is described as a tall black man in his early 30s, of large build and clean shaven. He was wearing dark clothing and sunglasses.
"Anyone with information, especially anyone who can help us identify the men or locate the BMW they used, is urged to ring the murder incident room on 01922 439107 or Crimestoppers on 0800 555111," added DCI Beechey.