 Kickboxing star bags World Title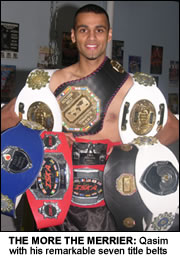 BIRMINGHAM kickboxing star Qasim Nisar has spoken of his delight after winning the coveted ISKA Super Lightweight World title.
The 18-year-old took on French Champion Galaoui Momo at the Light Bar in Wolverhampton and came through to claim the title.
Qasim, who is still unbeaten in 50 contests, has now added the world title to an already impressive list of titles which includes three British and two European titles.
Speaking to The Asian Today, a delighted Qasim dedicated the win to his supporters.
"I really enjoyed the fight and although it was a tough one I would much prefer a fight like that than to just go in there and knock someone out in a round or two. You learn so much more in that type of fight", he said.

"I am really grateful to everyone who has got me to this level so far and am so glad that I never let anyone down tonight, My family, supporters, coaches, gym mates, promoters and sponsors Burkey Estates and Premium Halal, I could have not have done it without you all and am truly thankful".
Coach Neil Kelly, who has helped Qasim rise the ranks since he began kickboxing, said his young protégé deserved to win the belt.

'I am so happy for Qas for finally achieving one of his goals of becoming a bonafide World Champion", he said.
"He really does deserve his success putting his heart and soul in to his training and dedicating his life to his chosen sport. With so many bogus titles around right now Qasim can hold his head high and know he is one of the few who did it the hard way".
The contest is expected to be Qasim's last as an amateur as he prepares for the big time in the professional ranks.