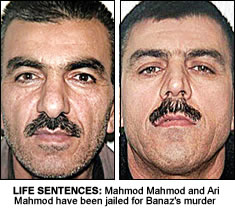 THE FATHER and uncle of a 20-year-old Muslim girl have today begun life sentences for her murder.
Mahmod Mahmod, 54, and his brother Ari, 51, will serve life sentences alongside third killer Mohamad Hama, 30, for the brutal murder of Banaz Mahmod.
Mahmod was told he would serve at least 20 years in jail, Ari 23 years and Hama 17 years.
The young Kurdish Muslim was raped and tortured for two hours by Hama and two other men, on the orders of her father and uncle who disapproved of Banaz having a boyfriend.
The Common Serjeant of London, Judge Brian Barker, said: "This was a barbaric and callous crime.
"You are hard and unswerving men to whom apparently the respect from the community is more important that your own flesh and blood."
Shocking details of the last few hours of Banaz's life came to light yesterday in which a court heard how Hama was secretly recorded in a conversation with a friend in prison in which he described raping and torturing the 20-year-old.
He admitted "slapping" and "f***ing" Banaz, who was subjected to degrading sex acts by the trio – two of whom fled to Iraq shortly after the Banaz's body was found buried in a suitcase in Birmingham.
Hama continued: Ari (the uncle) said there is no one there. There was someone there, Biza (her sister). The bastard lied to us.
"I swear to God it took him more than two hours. Her soul and her life would not leave. "The wire was thick and the soul would not just leave like that.
"We could not remove it. All in all it took five minutes (to strangle) her.
"I was kicking and stamping on her neck to get the soul out. I saw her stark naked, without wearing pants or underwear."
In another taped conversation Hama is heard describing taking the suitcase which contained Banaz's body out of the family home and into a waiting car.
"The road was crowded. The police came past. People were passing by – and we were dragging the bag.
"I almost ran away. Mr Ari (was dragging it) and we were around by each side of him.
"You know what it was, sticking out, her elbow, her hair was falling out so much. That was a stupid thing, a silly thing."
During the three-month trial of Mahmod and Ari the jury was told Banaz had written to the police four times telling them she feared for her life.
She had written names of those she believed would kill her – including Hama who eventually admitted to her murder.
The jury heard how her fears were dismissed by a female officer who believed she was making up the accusations to get attention from her boyfriend. The female officer is just one of a few officers who are now being investigated over the handling of the case.
Chilling mobile phone footage of Banaz taken by her boyfriend Rahmat Suleimani in which she accused her father and uncle of trying to kill her was also played in court.
The footage, which was filmed on New Years Eve 2005, showed a clearly distressed Banaz fearing for her life.
Speaking into the camera she said her father had given her brandy to drink before returning to the room wearing gloves.
When he left Banaz managed to escape from the house and ran barefoot to a local café where she broke down in tears.
The court heard that despite the incident Banaz had decided to return home and continued her relationship with Mr Suleimani.
But when he was threatened by associates of her uncle she contacted police who urged her to stay in a safe house.
Banaz refused, the jury was told, believing she would be safe at home with her mother.
The following day she disappeared from her home and was reported missing by her boyfriend.
Three months later her badly decomposed body was found in a suitcase buried in the garden of a home in Handsworth, Birmingham.
Both Mahmod and Ari had been previously arrested in connection with Banaz's murder but were released.
But on 30 April 2006 both men were rearrested and charged with murder.
Related Articles: