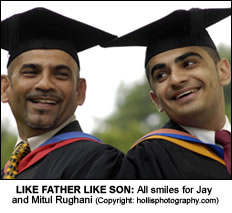 The RUGHANI family had a special reason to celebrate this week as father and son Jay and Mitul graduated together with the highest class of degrees.
Jay and his eldest son Mitul both scooped top degrees from De Montfort University in Leicester this week.
Jay, 50, gained a distinction in his Post Experience Diploma in Housing Studies while Mitul, 21, received a first class BSc (Hons) Accounting and Finance degree.
Graduation success at DMU is a tradition for the family. Jay's wife and Mitul's mother, Kamina, also graduated from DMU in 2003 and 23 years ago Jay received a Technology degree from Leicester Polytechnic, now DMU.
He then worked in manufacturing as a Principal Engineer for 19 years before undertaking a career change and deciding to return to DMU to retrain. Jay and Kamina now both work as housing professionals at Leicester City Council.
Speaking on his achievement, Dad Jay said: "The graduation ceremony is a celebration of achievement to be shared with loved ones and this proud moment is even better when your son is part of it.
"It was quite strange studying together. I thought Mitul might feel embarrassed but I was wrong, I think it inspired him to ensure his marks were better than mine! I'm so proud of Mitul for gaining his degree and to achieve a first class means there's no end to my joy."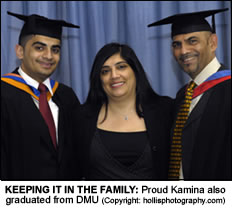 Son Mitul meanwhile now hopes to pursue a graduate training scheme with a top accounting firm.
He said: "It felt fantastic to graduate together. I'm really proud of my Dad. The degree is a great achievement considering his family, work and social pressures, well done old boy!"
Mum Kamina said she was both a proud wife and mother after witnessing her husband and son's graduation: "I am so pleased for them both. It was a very proud and exciting moment to see them graduate at the same ceremony.
"We all chose DMU for its exceptional facilities, friendly and helpful tutors and because it is local. It's possible my younger son Jaison might come to DMU in the future too!"