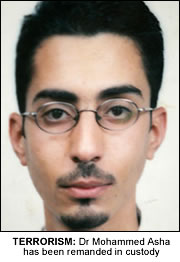 A MIDLAND doctor who was arrested in connection with the failed bombs attacks in Glasgow and London has been charged with conspiring to cause explosions.
Dr Mohammed Asha, 26, from Newcastle-under-Lyme, Staffordshire, was arrested on the M6 in Cheshire in connection with the failed attacks.
He is one of four men charged in connection with the attacks. Three others – two men and one woman, who is Dr Asha's wife, have been released without charge.
Another man is still being questioned.
Two cars containing gas cylinders, petrol and nails were discovered in London last month. A day after the discovery a burning jeep was driving into the main entrance at Glasgow airport.
Dr Asha appeared at City of Westminster Magistrates' Court and was remanded in custody for one week.
Bilal Talal Samad Abdullah, Mohammed Haneef and Dr Sabeel Ahmed have all been charged in relation to the failed attacks.
Mr Abdullah was arrested at Glasgow airport following the failed car bombing.
He was charged with conspiracy to cause explosions and is due to appear at the Old Bailey later this month.
Mr Haneef, a 27-year-old Indian doctor, was arrested and charged in Australia with providing "reckless support" to a terrorist organisation.
Twenty-six-year-old Dr Sabeel Ahmed appeared in court earlier this week charged with failing to disclose information that could have helped police arrest a suspected terrorist.
His brother, Kafeel Ahmed is currently under armed guard at a hospital in Glasgow where he is undergoing treatment for severe burns.
He suffered 90% burns to his body after driving a burning jeep into Glasgow airport last month.