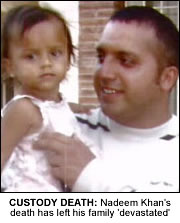 THE family of a man who died after being taken into police custody have said they are determined to "find out the truth" about what happened to him.
28-year-old Nadeem Khan –known as 'Dean' to his family and friends, died just hours after he was arrested by officers in Brierfield on Saturday 30 June
after reports of windows being smashed and violent behaviour.
He was taken to Burnley Police station where he was taken ill and transferred to Burnley General Hospital.
He died a short time later. A post-mortem into Mr Khan's death was inconclusive but it did confirm he did not die as a result of serious trauma or as a result of natural disease.
Mr Khan's family said they were "
deeply distressed" over his death.
The Independents Police Complaints Commission (IPCC) is now handling the case and are awaiting toxicology tests to determine how Mr Khan died.
Mr Khan's family said they were being kept informed about the IPCC inquiry.
In a statement, the family said: "
"Dean was a great son, brother, friend and dad and will be sadly missed by all who knew him. Dean was a very generous person and would do anything for the people he cared about. He was protective of his family and friends.
"He was the one who everyone turned to in the time of need and the family always felt protected when he was around. We just wish we were there to protect him. He was a loving dad and would do anything for his two daughters Alisha and Jasmine. Dean loved being a family man and his daughters meant the world to him.
"There are a lot of questions to be answered and we are determined to find out the truth. The IPCC are conducting an independent investigation and we are being kept fully informed about this. We would ask people to wait for the outcome of this investigation and not speculate on what happened to Dean."
Mr Khan's family also organised a peaceful march to Burnley Police Station where they laid flowers and handed Superintendent Neil Smith a list of questions over his death.