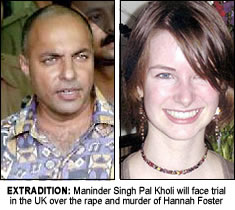 AN INDIAN man wanted in connection with the rape and murder of a British teenager will face trial in Britain after failing in an appeal against extradition.
Maninder Pal Singh Kohli was arrested in India in 2004 over the rape and murder of 17-year-old Hannah Foster.
The teenager was murdered after a night out in Southampton in 2003.
Mr Kholi, who claims he is innocent, left the UK two days after the teenager's murder but was arrested in India.
An order for his extradition was recommended last month by a lower court of the Delhi High Court but it was challenged by Mr Kholi's lawyers who claimed there was no direct evidence connecting him to the crime.
Mr Kohli's lawyer, Charanjeet Singh Bakshi, had said "the other evidence used to link him with the murder – DNA samples and the route taken by him to flee Britain – had not been satisfactorily explained".
But the appeal was rejected and Britain's Hampshire Police said they would now work closely with the Crown Prosecution service and Foreign and Commonwealth Office to "expedite [the] process".
New of the extradition will come as a relief for Trevor and Hilary Foster – parents of Hannah – who have travelled to India three times to appeal for Mr Kholi's extradition.
Hannah's body was found two days after she disappeared near her home in March 2003.
Mr Kohli, who worked as a driver in Britain, left the country for India after he was identified as the prime suspect.
He was arrested in the eastern state of West Bengal, near the border with Nepal, more than a year later.