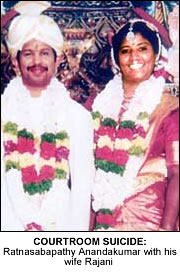 A SECURITY review in underway after a man committed suicide in a packed London courthouse just moments after being found guilty of abusing his young daughter.
Ratnasabapathy Anandakumar, 40, drank poison from a coca cola bottle as he stood in the dock at Isleworth Crown Court in West London.
He had been found guilty of abusing his baby daughter who has been left quadriplegic, epileptic and partially blind after suffering horrendous attacks at the hands of her father when she was just 3-months-old.
As he was due to be led away from the dock Anandakumar pulled out a coca cola bottle from his bag and proceeded to drink the contents before a security guard could intervene.
He was rushed to hospital but died a few hours later.
A security review is underway to determine how he managed to get the bottle past security guards and into court. Courtroom guards are supposed to check defendants' clothes and belongings for anything which they could use to harm themselves or others.
Last night a Scotland Yard spokesman said: "Officers are preparing a report for the coroner on a non-suspicious death that happened on June 28.
"A man was taken from Isleworth Crown Court to West Middlesex Hospital, where he died."
Anandakumar was tried two years ago and sentenced to five years for the attacks on his daughter. But he was granted a re-trial after defence lawyers argued his mental state at the time of the attacks was not heard at the original trial.
Anandakumar, and his wife Rajani who split from his in 2005, took their daughter to hospital in October 2002 suffering from breathing difficulties. Doctors found she also had four broken ribs, a fractured left arm and a fractured left leg.
Anandakumar was also caught by a nurse at the hospital shaking his daughters head from side to side and smothering her head with his hand.
Mrs Anandakumar was given a three-year community rehabilitation order to run with the psychiatric help she already receives.