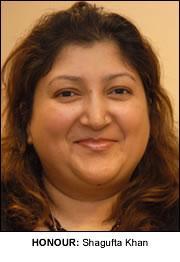 A GENETICS Counsellor from Birmingham Women's Health Care NHS Trust has met with Tony and Cherie Blair last month in recognition of her achievements.
Shagufta Khan who works as a Genetics Counsellor for the Clinical Genetics Department based at the Women's Hospital attended the event held by the Blair's to thank frontline workers for their role in delivering excellence in Public Services.
Shagufta is an invaluable asset to the Asian community in Birmingham where she provides Genetic Counselling to families with a clinic and drop in centre based at Adderley Children's Centre in Alum Rock. She set up the service at the Centre because she wanted to take the service into the community.
Speaking about the special honour, Shagufta said: "Our work is all about raising awareness of genetics for health professionals and families. The clinics and drop in sessions allow the opportunity for people to discuss issues in an informal setting away from the hospital environment. The fact that we are in the heart of the community and we are visible to people means that we have a relaxed flexible approach and people feel more comfortable about talking to us.
"I was really honoured to be invited and to be recognised for my work. I was very excited and proud to be representing the Clinical Genetics Department and the Trust. This was my opportunity to raise awareness of the important work we do for so many families in Birmingham and across the region."
Chief Executive, Julie Burgess said: "The Trust is so proud of Shagufta and the Clinical Genetics Department, the day to day achievements that take place across the whole organisation are wonderful and having a member of staff attending an event to recognise public service is testament to the excellent work taking place at Birmingham Women's Health Care NHS Trust."