 Bollywood star Shah Rukh jets into Warwick Castle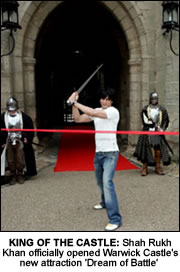 TOP Midland tourist attraction Warwick Castle was treated to some Bollywood royalty after Shah Rukh Khan jetted into the majestic site to open their new attraction.
"King Khan" as he is known to his millions of fans, kicked off a whistle-stop private visit to one of Britain's oldest and most majestic castles by wielding a sword for a mediaeval-style red ribbon cutting ceremony flanked by a bodyguard of fully armoured knights.
He had earlier made a true Bollywood-style entrance to the site – landing on the castle's majestic green grounds on a private helicopter as hundreds of fans waited patiently for a glimpse of their idol.
The multi-award winning Indian mega-star and his family later enjoyed a tour of the castle and a taste of some of the many events and entertainments it offers including an archery display, a Birds of Prey show and the spectacle of the world's biggest trebuchet firing.      

He said the trip had given him an "exciting taste of British history".
"I love Britain and our visit to Warwick Castle today has given us a wonderful and exciting taste of British history", he said.
"The castle itself is spectacular, and there are so many stories and so much to do. We've had a truly memorable time."

General Manager, Sue Kemp, said: "It has been an honour to welcome such an icon to Warwick Castle. Shah Rukh Khan is one of the most popular actors in the world today and we were delighted he found the time to explore the castle – and officially open Dream of Battle."
Warwick Castle is one of Europe's most impressive mediaeval castles and offers Britain's best mediaeval experience, with a range of attractions and activities that bring history to life for guests.
Click here to see pictures of Shah Rukh Khan's visit to Warwick Castle