 Emraan Hashmi gears up for release of Awarapan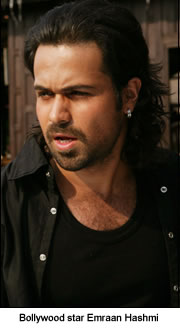 Talented and confident, he has carved an enviable niche for himself with his unusual looks and unique style of acting in romantic blockbusters like Murder and Gangster. But now Emraan Hashmi is all set to delight his audiences further in Mahesh Bhatt's stylish musical thriller, Awarapan. Audiences will get to see the actor with a whole new look and part, never seen before.  Emraan speaks on his biggest release, out on June 29…
Firstly, how does it feel to be married?
(Smiles) I'm getting used to it gradually! It's a different life from being a bachelor but no regrets so far!

 
From being chubby and boyish to lean and mean, what do you have to say about your brand new look in the forthcoming Awarapan?
I love it! It's an interesting change from the lover boy look I have been portraying till now.  I had to spend a lot of time in the gym doing cardios to tone up my body, and learned  kickboxing to make it flexible.The moustache, the stubble and the ear-ring  were essential  for my character Shivam who is an emotional assistant to a gangster.
How is Awarapan different from other love stories?
Awarapan
is a love story with a distinct thriller element to it. It's not your usual boy-meets-girl romance. It revolves around a character who juxtaposes his past and present love. Its climax has been shot in Lahore.
Describe your role in Awarapan?
I have played hard-hitting and intense roles before but not an author-backed character like Shivam.  He is a macho and rugged  man who leaves his country to get away from a tragic past and lands up in Hong Kong  to work for a don. His tragic past however refuses to leave him, and in a way, defines and shapes his personality. Mohit Suri (the director) has mounted my character really well.
 

You have a special bond with Mohit Suri…
He's my cousin. We've grown up together. It's my third film with him after
Zeher
and
Kalyug
. We understand each other really well.  
The music of Awarapan is a rage. Tell us about it
(Smiles) I've become synonymous with hit music and
Awarapan
is continuing that tradition! Some weeks back there were
Mausam
and
Woh Ajnabee
from
The Train
, now there's
Tera Mera Rishta
and
To Phir Aao
from Awarapan! My favourite is
To Phir Aao
, the signature track of the film. It's the first Bollywood soundtrack with such a strong Pakistani influence in it.
We hear that you have discarded your serial kisser image in Awarapan?
Awarapan is different from any film I have done before, even when it comes to the romantic scenes. That's all I will say at this stage.
You have two beautiful leading ladies, South superstar Shriya Saran and famous model Mrinalini Sharma opposite you in Awarapan. What was your rapport with them?
We got along fabulously. Shreya has done several regional films and is very confident as an actress whereas Awarapan is Mrinalini's first film. She has played her part of a Pakistani girl (Reema Zaidi) with aplomb.  
Which directors would you like to work with?
There is a lot of fresh talent out in the market. I would love to work with someone who gives me strong scripts and characters to essay!
What response are you expecting from your overseas fans to Awarapan ?

I have been lucky with my overseas audience! They've loved my music and enjoyed watching my films on DVD! Awarapan is my first big solo theatrical release overseas! It's a very good-looking, musical and sensitive subject with a lot of thrills and action! Inshallah, it will meet everyone's expectations.
Awarapan is released nationwide on June 29