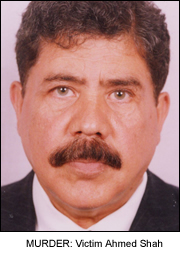 A WEALTHY London businessman who had chilli powder thrown in his face before being stabbed was the victim of a targeted attack, police have said.
56-year-old Ahmed Miah, was rushed to Ealing Hospital after the attack on Tuesday where doctors battled in vain to save his life.
Despite efforts by a team of doctors the father-of-three died shortly after.
Detectives investigating his murder believe Mr Shah was targeted and are looking into his personal and business affairs for any clues to his murder.
Mr Shah, who owned and rented residential property in Southall and ran an import and export business, was separated from his wife and three children.
Police described his break-up from his wife as "amicable" but refused to rule out a link between his ex-wife's family and his murder.
A post-mortem carried out revealed Mr Shah had died of multiple stab wounds. It also revealed traces of chilli powder across his head, face and chest.
Detective Chief Inspector Peter Landsdown, said: "There was a confrontation and during that witnesses described seeing a cloud of red dust in the air.
"We've found traces of a chilli powder substance that may have been thrown on the victim as a distraction or a disabler to allow the attack to occur.
"That may show indication of planning on the assailant's part."
DCI Landsdown added it had been a "sustained, heavy attack with a large knife".
Detectives are appealing for witnesses.