 Bollywood Film Review with Manish Gajjar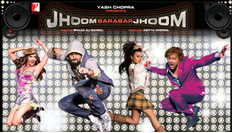 Director:
Shaad Ali
Cast: Amitabh Bachchan, Abhishek Bachchan, Preity Zinta, Bobby Deol, Lara Dutta and special appearance by Shah Rukh Khan
Director Shaad Ali's latest Bollywood caper opens on the busy Waterloo train station in London.
Rikki Thukral (Abhishek Bachchan) and Alvira Khan (Preity Zinta) are two strangers waiting impatiently in a crowded coffee shop for their fiancés.
They are waiting for the Virgin train from Birmingham which is now heavily delayed.
With two hours to kill, they decide to tell each other how they met their respective fiancés.
Rikki is born in Bhatinda but now lives in London. Alvira Khan (Preity Zinta) is a British born but her descendants come from Punjab.
Rikki met his fiancé Anaida (Lara Dutta) at The Ritz in Paris, the same night that Princess Diana and Dodi walked out of the hotel.
Alvira, who considers herself a princess, discovers her prince at Madame Tussaud's.
When a gigantic wax model of Superman falls from the ceiling, Alvira was the sitting target. But Steve, (Bobby Deol), a lawyer by profession, saves her life and also steals her heart.
As their stories unfold and time passes, these two strangers begin to enjoy each other's company.
It does not matter whether Rikki is crooked and a dabbler in various sordid businesses. Neither does it matter whether Alvira is prim-and-proper with a stiff upper lip. What matters is the fact they are becoming attracted to each other!
But to their dismay, the result of their brief encounter has now created a complicated quadrangle.
Rikki Thukral and Alvira Khan have got themselves into a lovely mess in front of Steve and Anaida.
To get out of it, both of them bend over backward, thinking quickly on their feet, dancing around each other's emotions… when you're playing musical chairs with love, there's nothing you can do but Jhoom Barabar Jhoom (meaning Dance Baby Dance)!
After making box office hits like Saathiya and Bunty Aur Babli , director Shaad Ali ventures into a musical entertainer filmed in Agra, Paris and London.
Various locales in London have been used including Waterloo Station, Green Lanes and Harringay (North London).
The film brings Abhishek Bachchan and Bobby Deol together on the silver screen for the first time. Preity Zinta will also be seen with Bobby Deol after their film Soldier.
Veteran actor, Amitabh Bachchan makes a special appearance in Jhoom Barabar Jhoom. He is seen wearing a very trendy outfit.
On the whole Jhoom Barabar Jhoom promises to be a sleek and stylish entertainer for the family. Another UK box office hit predicted for this stunner this summer.