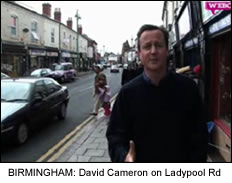 CONSERVATIVE leader David Cameron has spent the night with a British Muslim family in Birmingham as he took a low-key tour of Balsall Heath.
Mr Cameron mingled with local British Muslims in the Balsall Heath area of the city on the day Prime Minister Tony Blair, vilified by a majority of the British Muslim community over the Iraq war, announced he would resign in June.
The Conservative leader stayed overnight with Community Warden Abdullah Rehman, his wife Shahida and the couple's three children.
Mr Cameron said he chose the intimate visit because he was "fed up with the way that touring works in politics" and had wanted "to gain a proper understanding of what's going on".
Speaking about his visit on his personal website, Mr Cameron said: "There's too much of people telling you what they think you want to hear, and too often the boldest or loudest voices dominate, rather than the most considered and thoughtful.

"So I've decided to spend some proper time out of Westminster. For the last couple of days I have been in Balsall Heath in Birmingham, living in the house of a British Asian family.

"I'm staying with Abdullah who's 37 and married to Shahida. They have three children: two girls and a boy, and I've also met many of the extended family who live in the area. Abdullah's a great guy – born in Birmingham, he's lived here all his life".
Mr Cameron spent his time visiting local shops, community centres and mosques where he talked to local Muslims about the issues affecting them in modern day Britain.
He said the media were guilty of using certain language in terrorist-related material when it came to Muslim community.
Admitting he himself has been guilty he said: "It's hard to over-emphasise the importance of language. I know it sounds like a side issue, but it isn't. We are just not getting this right.
"Every time the BBC or a politician talks about "Islamist terrorists" they are doing immense harm, and yes I am sure I have done this too, despite trying hard to get this right.
"Think of Northern Ireland – "IRA terrorist" was fine because it marked them out as part of a terrorist group, Catholic terrorists would have been a disaster. Yet that is the equivalent of what we are doing now.
"When they hear and see this kind of language, Muslims simply think – "they mean us." Of course it's impossible every single time to say "terrorists who are following a perverted strain of the true religion of Islam" but if we're going to use shorthand we have got to do better."

He added there were also issues "in some parts of the community" about the acceptance of terrorism as a real threat.
"In some parts of the community, yes. In the mosque and elsewhere I got the familiar depressing questions about who was really responsible for 9/11 and even 7/7", he said.
"Dig a bit deeper and it all comes out. "CIA plot…Jews told to leave the twin towers" – even when it comes to 7/7 "how do we know the suicide bomber videos are real and not fakes?"

"Even if this is a view held by 5 or 10 per cent of British Muslims – and I suspect it is at least that – this is a real problem which we have all got to get to grips with."
He also talked about foreign preachers "radicalising" young Muslims.
One shopkeeper who met Mr Cameron during his visit said he was angry that British authorities were not doing more to deal with the issue.
"One young businessman told me that it had set back progress by at least a decade. Another said that he felt constantly under suspicion and much less a welcome and normal part of British life than before."

The Tory leader also said it was right to expect ethnic minorities to integrate, but it worked both ways.
"Yes we can ask minority ethnic communities to work at integrating with British society as a whole, but we have to recognise that it won't happen unless there's something attractive to integrate into.
"Time after time I heard people here talking about the uncivilised behaviour and values that they see all around them.
"As I've said before, we can't just bully people into being more British, we've got to inspire them."