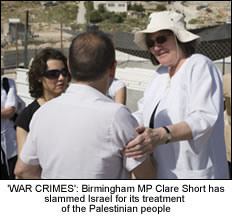 BIRMINGHAM MP Clare Short condemned Israeli "war crimes" after Palestinians told how they were forced off their land into shanty homes to make way for new settlements, in a visit to the region.
The anti-poverty charity War on Want took Short, the ex-international development secretary, to the region this week so that she could see the Palestinians' situation for herself.
Short, back in Britain from the occupied West Bank, including the Jordan Valley, said: "I met Palestinian families who have lived and farmed in the valley for generations. But Israel forces them to move time and again to clear the land for more settlers.
"The Israelis even left one family without water for their baby in the boiling sun.
"A European parliamentary delegation visited the valley in February, yet took no action.
"I met other poor people on the West Bank, where the apartheid separation wall and humiliating checkpoints block access to healthcare and educational facilities and destroy many vital livelihoods. 
She hit out at Prime Minister Tony Blair saying his promises of securing a "just peace" never materialised.
"These are shameful war crimes which make international law meaningless. Britain has a prime minister who promised to help secure a just peace, but has done nothing before his retirement," she added.
Short's criticism levelled at Tony Blair emerged as the premier announced he would resign as Prime Minister on 27 June amid speculation that he will become a roving ambassador in the Middle East and Africa.
She met Palestinians who work on crops grown in the valley for Agrexco, the largest Israeli exporter of fresh agricultural produce, amid pressure on the UK government to ensure shoppers know if goods are from Israel or the territories.
War on Want is urging people to press David Miliband, minister for the environment, food and rural affairs, on the issue.
His mother, Marion Kozak, supports the group Jews for Justice for Palestinians, which favours divestment from companies that profit from Israel's occupation.
Short met a Palestinian family whose house again faces demolition by the Israeli authorities to make way for settlements after she paid for the home to be rebuilt by Arabs and Jews following its earlier destruction.
The visit came in the run-up to global events on 9 June which will mark the 40th anniversary of the Six-Day War and the start of the Israeli occupation, including the ENOUGH! coalition in the UK, in which War on Want is a leading member.