 Bangladesh coach tipped to take Pakistan job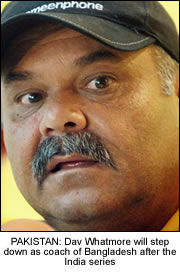 PAKISTAN cricket officials are in talks with Bangladesh coach Dav Whatmore over their vacant coaching role.
The Sri Lankan will end his spell in charge of test minnows Bangladesh after their current series against India and is hotly tipped to take the reigns at Pakistan.
Nasim Ashraf, the PCB chairman, told reporters in Islamabad that they had been in contact with Whatmore for the post but that nothing had been finalised.
"The PCB is in contact with Whatmore. Our negotiations are continuing and whenever something is finalised, it will promptly be made public," he said.
Whatmore guided Bangladesh to stunning wins over India and South Africa during their World Cup campaign where they qualified for the Super 8 Phase.
Ashraf told reporters Whatmore had talked to officials in Pakistan and expressed an interest in the post made vacant after the sudden death of Bob Woolmer.
But speaking to the BBC before the India series, Whatmore distanced himself from the reports saying he had "not been formally approached by the Pakistan Cricket Board".
"Somebody spoke to me on their behalf during the World Cup asking for my contact details but I have not heard from them since," he said.
Former India coach John Wright and ex-Pakistan Test bowler Aaqib Javed have also been linked with the vacant post.