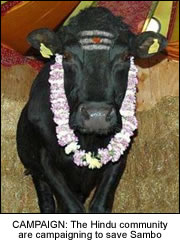 A FIGHT has begun in Wales to save a 'sacred' bull who has tested positive for tuberculosis.
The bull, named Shambo, is scheduled to be slaughtered later this month following notification by the National Assembly for Wales. But officials and followers at the SkandaValeTemple in Llanpumsaint, Carmarthenshire, have opposed the action.
They say the killing of cows and bulls is against their religious principles and are considering forming a human chain in an attempt to save the temple bull.
An online petition has also collected more than 2900 names as the temple battles to save the bull.
Shambo, who is in isolation, tested positive in routine bovine TB screening.
Temple spokesman Swami Suryananda said: "If we were to permit DEFRA to kill Shambo it would be an appalling desecration of life, the sanctity of our temples and Hinduism as a whole.
"We could no more allow the slaughter of Shambo than we could the killing of a human being. Ultimately, we will be willing to defend his life with our own."
The Welsh assembly government said animals were slaughtered to "protect both human and animal health".
But officials at Skanda Vale, which attracts more than 90,000 pilgrims each year, hit back saying they had "sought professional veterinary advice" to ensure appropriate measures were taken to minimise the risk of the disease spreading.
Mr Suryananda continued: "As a responsible organisation we have sought professional veterinary advice to ensure that the measures we are taking are robust and appropriate to minimise any risk of possible spread of disease either to other animals in our care, other farm animals, wildlife, the members of the Community involved in direct animal husbandry or members of the public visiting the Community for worship.
"We understand and appreciate DEFRA's position with regards to public health and containing the spread of TB with the view to eliminate it from the national herd.
"We have been advised by our solicitors that there is provision both within the Animal Health Act 1981 and the more recent TB order Wales 2006 for permission to treat and vaccinate any animal identified as having TB with the prior consent of the minister for the national Assembly of Wales."
The temple has also generated the support of the Hindu Forum of Britain. Ramesh Kallidai of the organisation said killing Shambo would go "against all accepted norms" of the Hindu faith.
The temple has urged its followers to get behind their campaign.
A Welsh assembly government spokesperson said: "We fully understand that this can be distressing for the owners, but these measures are in place to protect public health and animal health and prevent the further spread of the disease.
"An animal kept by the Community of the Many Names of God has tested positive, and the case is being dealt with in the usual way. Every effort will be made to deal with this case as sensitively as possible."