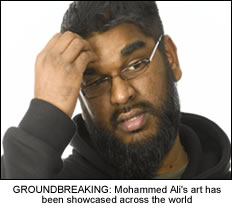 A BIRMINGHAM graffiti artist whose take on modern Islamic art has made him one of the most recognizable Muslim artists in the world is to showcase his work in America next month.
Birmingham-born Mohammed Ali will take his work to universities, arts organisations and community bodies across Chicago, New York and Boston in a groundbreaking tour.
The Arts & Islam USA Tour, which is being supported by the Arts Council England and the Islamic Circle of North America (ICNA), will see the talented artist working with young children in creating wall murals that "reflect the universal themes of spirituality and unity that connect people of all backgrounds and cultures".
In New York he will create a special mural commemorating the tragic deaths of nine children who died in a Bronx fire earlier this month.
Mohammed said his work, dubbed "urban Islamic art", portrays universal positive images of Islam.
"This is one of the sole purposes of why I do what I do", he said. "I was inspired to do this because of all the negativities surrounding Islam. My work is an attempt to use an alternative means of communication to present to people through my own personal creative expression that Islam is everything but what they show us on TV. "It's the complete opposite of that and I wanted to express that side of it. My work is completely aimed at trying to challenge the negative perceptions of Islam that is so frequent on our TV screens."
Once a part of the underground graffiti scene, Ali now produces works on canvas that challenge assumptions made about graffiti as merely a form of vandalism.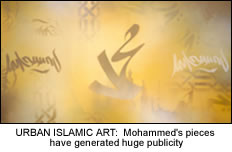 He aims to inspire young Muslims to re-connect with their faith and take pride in their identity.
Azeem Khan of the Islamic Circle of North America said: "The goal of this tour is to elucidate Islamic themes and messages through a medium which can universally be understood and appreciated by all. Mohammad Ali's work transcends artificial barriers such as ethnicity, nationality, class, and perceived religious differences which prevent us from understanding one another".