 Danielle Lloyd joins Shilpa on red carpet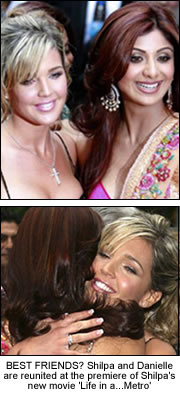 BOLLYWOOD star Shilpa Shetty looked to have put her differences with former Big Brother housemate Danielle Lloyd behind her as the duo hugged on the red carpet at the London premiere of her latest film.
Former Miss Great Britain Lloyd had caused outrage earlier this year when along with Jade Goody and Jo O'Meara bullied the Bollywood star in the celebrity version of Big Brother.
But she was invited to the Leicester Square premiere of Shetty's latest movie 'Life in a…Metro' where the duo hugged and kissed in front of photographers.
"Shilpa invited me here", Lloyd said, "I've come to support her tonight. It's my first Bollywood movie and I'm really excited."
Jade Goody was reportedly taken off the guest list by Shetty's publicist Max Clifford despite being originally invited to the premiere.
'Life in a…Metro' is Shetty's first film release since her Big Brother win in January this year.
The 31-year-old, who attended the premiere with her actress sister, said: "This is the first ever Leicester Square premiere for an Indian movie. It's something that I once dreamed of but never imagined would happen."
Speaking of the film, she said: "Audiences are ready and looking for something different, for interesting cinema."
Related Links: