 Tricks and a whole load of Treats with Ravi Mayar
Ravi Mayar is all together a different kind of Asian man. He's shunned a career as a high flying doctor or a number juggling accountant to take on a career many would never contemplate. Ravi Mayar is a magician, and a jolly good one to! Born in London, the energetic man spent most of his life in Canada where he found himself drawn to card trickery.
Today Ravi is one of the world's leading magicians. He's played to the likes of football stars Rio Ferdinand, John Terry and Michael Ballack, as well as mind magician Derren Brown. We caught up with Ravi at his London home to find out what drew him to magic and what it feels like to get one over on his adoring fans.
What made you decide to go into magic?
My fascination with the art soon became an obsession and my obsession blossomed into today's career. What was the additional turning point for me? Simply … It has to be the one on one experience. Performing between individuals leaving them compelled to open up after they have just witnessed a small miracle right before their very eyes! There is great personal gratification knowing and not just knowing but being part of an experience that will take someone out of their routine constraints, lead him into a moment of vulnerability and then bring him back to a revelation that will leave him awestruck.
You're a master of card tricks. What's your favorite trick?
The style of card magician I am "Extreme Card Magician" What that means is that I perform visual card cuts and flourishes with cards. I do multiple packet cuts, card throwing, card spins, card flips from hand to hand, card scaling (card shoots out of the deck), card fans, and a number of one hand shuffles. Part of performing my favorite card trick is showcasing these cuts and flourishes once the spectator has placed the card back into the deck. My favorite trick!…Spectator takes a card, signs his name on the face of the card, places it back into the middle of the deck and then… without any hesitance their signed card ends up folded in fours in my mouth….Are you watching closely!
How satisfying is it to see the bewilderment on the faces of those who you perform to?
It is an amazing thing I can perform a trick that I have done for years and each time my reaction mimics the spectator's. I feel what the spectator feels. This used to worry me when a spectator was quiet, but over the years I have learned that individuals react differently some are expressive, verbal, loud, and some are quiet bewildered to a point of silence, unable to verbally express their emotions. Either way, as I mentioned before there is great personal gratification being part the experience. There is an overwhelming feeling of pride that comes over me being able to put a smile on a peoples faces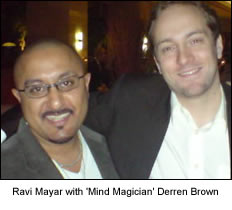 Have you ever had anyone successfully dissect any of your tricks?
The truth ….no! Have I had anyone try to use logic to discredit what they have just seen …yes. What do I do?…..I do another trick and another and another and keep on until they are cornered and have no choice but to accept and believe. It is a great feeling to be able to take a non believer and make him believe.
With the number of magicians across the world, do you find yourself having to frequently come up with new tricks?
Magic is a melting pot of tricks that date back hundreds of years. Magicians personalize effects to their performance style. Yes, magicians like me are constantly taking the old mixing it with newer versions, personalizing it and coming out with fresh variations and methods. The performance of new tricks is a result of time consuming research and practice. This aspect of magic is equally as fun as the performance itself because of the creativity that is involved with the research process.
Were you never attracted to the 'sawing people in half' type of magic?
As much as I appreciate stage magic, I love the intimate close up magic that hits you right between the eyes. I am in the process of creating an intimate stage show with The Reece Lightning Show. I am going to modernize the old school magician on stage and produce a close up magic show that I will perform on stage for up to two hundred to two thousand people. "Intimate magic for a mass audience" A camera man will film me live on stage while the audience will be watching on a giant movie size screen. www.lightningentertainment.biz. 
You were at the London Marathon last month. What made you interested in getting involved in this?
Well… I wish I could tell you a grand story about how I have been involved with this from the start, but the truth of the matter is that my name as a unique magician has spread throughout London and I believe that a couple of the top brass have seen me perform on various occasions throughout the west end. They contacted me personally to see if I was
available. It has been great because I am now an exclusive hire for the Flora London Marathon.
You've performed across the world and to a number of high-profile celebrities. Does any one performance stand out for you?
When you asked this question I thought about the Brit Awards after party and some of the places I have been in around the world, but to be completely honest the performance that stands out for me the most is when I had the opportunity to perform for my mom and dad about 2 years ago at a simple community gathering in my home town of Baie D'urfe, Montreal, Canada. Words do not do it justice. It was a perfect day!
If somebody out there reading this wanted to get into the magic trade what advice would you give them?
My advice would be to join a local magic club in your area. These clubs cater to professionals, semi-professionals, amateurs and people from all ages who want to learn more about the art of magic. This is a great place to find your niche and starting point. By surrounding yourself with professionals and non professional you are guaranteed to learn without feeling intimidated. As you learn a little your confidence will grow and you will want to learn more….this is where the obsession begins and the fun really begins!
Inteview by Zakia Yousaf