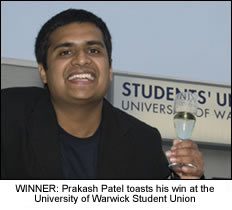 A 23-year-old Asian university student can proudly claim to be one of the country's brainiest students after helping his university to the BBC University Challenge crown.
Leicester-born Prakash Patel helped guide the University of Warwick to the crown after thumping reigning champions Manchester University 170-140.
The win means Prakash, along with his team mates led by captain Daisy Christodoulou, Harold Wyber and Rory Gill will go into the academia's history books in bringing the coveted title to the Midlands University for the very first time.
Speaking to The Asian Today, Prakash said the win felt "excellent".
"To be crowned champions of University Challenge feels excellent", he said.
"I've watched the show for several years and always thought of it as the realm of which only the cleverest students take part. One of my lifetime ambitions was just to appear on the show – I didn't have any expectations of doing well – so to win it seems like an extreme bonus. To come away with a win was pure lunacy!"
The team secured their spot in the grand final after thrashing University College London in the semi-finals by 235 points to 86. The final, aired on BBC 2 last month, was watched by more than 200 jubilant students' at the University's Student union who led the team onto stage with rapturous applause.
With the final having been filmed late last year, students at the university already knew the outcome but that didn't stop them from turning out in numbers to celebrate with the winners.
"The atmosphere was electric", Prakash said, "as they knew they were about to witness Warwick history with the four students in attendance."
The second-year PhD Chemistry student, who had tried and failed three times to get into the team in his seven years at Warwick, was also cheered on throughout the show by his family.
"They were very supportive throughout the competition and when we finally won they were ecstatic", he said.
"It was a great achievement just to appear on the show but to win it was beyond comprehension. My parents attended my second round match, and my brother, brother-in-law and sisters attended the final, and were amazed at my performance."
By Zakia Yousaf