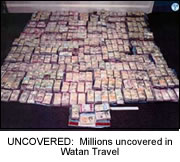 A BRADFORD travel agent became the eleventh man to be jailed for a massive money laundering scam involving a total of £500 million.
Shahid Nazir Bhatti, 45, was jailed for three years at Bradford Crown Court after admitting conspiracy to launder the proceeds of criminal conduct.
He was jailed along with 11 other people, including one man from Birmingham, Liaqat Ali, from the Sparkhill area of the city, in connection with the fraud which was uncovered in 2001 by Revenue & Customs officers in West Yorkshire.
As reporting restrictions were lifted involving all cases, details of the massive fraud came to light.
Investigations revealed the money was laundered through three travel agents in Bradford, Birmingham and Halifax.
Bhatti used his own family business Bradford Travel Centre to launder more than £42 million of illegal cash between 1999 and 2001.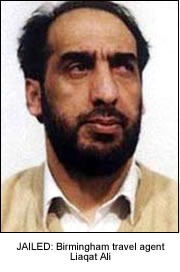 Watan Travel, which has offices in Bradford and Birmingham, and Ramzan travel in Halifax were also used to move the cash abroad under an old-age system called "hawala".
Hawala transactions are an ancient form of money exchange common in Asian countries, which bypasses much of financial regulatory system.
Investigators closed in on the scam after financial institutions noticed the massive scale of some transactions.
Between December 1997 and February 2001 Watan Travel processed more than £333 million through its accounts.
Between 1997 and 2001, couriers working for sophisticated criminal gangs would collect huge sums of money from drug traffickers and dealers around the UK and would deliver it to premises in Leeds in West Yorkshire, for counting and sorting. David Odd, HMRC Head of Investigation for Yorkshire said: "Literally hundreds of thousands of pounds in 'dirty cash' was being ferried up the M1 on an almost daily basis.
"The money was then deposited into business and personal accounts at various banking outlets, converted into foreign currencies, then transferred to accounts in the United States, the United Arab Emirates, and across Europe."
A number of those convicted in the scam took their cases to the appeal courts after original sentencing.
Bhatti's sentence was reduced from 10 years to three years and Birmingham man Liaqat Ali was originally jailed for 12 years. This conviction was quashed on appeal but he was later jailed for 12 years after second conviction.