 Indian uproar after duo get cosy on stage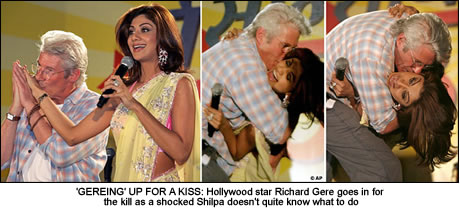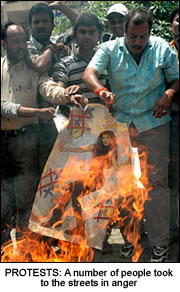 BOLLYWOOD star Shilpa Shetty may have gone from heroine to villain in her native India after protestors burned effigies of the actress after she was kissed on stage by Hollywood actor Richard Gere.
A number of major Indian newspapers splashed images of the duo's tongue and cheek kiss at an event highlighting Aids awareness amongst truck drivers in India.
The 57-year-old Hollywood star, who has been an active campaigner for Aids awareness in India, held the Big Brother winner in his arms and repeatedly kissed her on the cheeks. A clearly shocked and flustered Shetty could not hide her surprise at the moment of passion and laughed the incident off as the crowd cheered with delight.
But in country where public shows of affection are taboo, a number of protestors took to the streets in anger.
Demonstrators in Mumbai set slight effigies of Gere and chanted "death to Shilpa Shetty". There were similar scenes in other cities across India.
But the 31-year-old actress, who shot to fame in the UK after winning reality TV show Big Brother, played down the incident.
"This was not such a big thing for people to over-react in such a manner," Shetty told the Press Trust of India news agency.
"I understand people's sentiments, but I don't want a foreigner to take bad memories from here. I understand this is his culture, not ours," she added.