 Director upbeat about debut film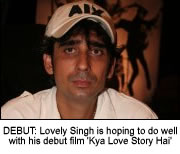 He assisted well-known director Satish Kaushik with several hits like 'Hum Aapke Dil Mein Rahte Hain', 'Hamara Dil Aapke Paas Hai' and 'Shaadi Se Pehle'. Now Lovely Singh has branched out on his own with 'Kya Love Story Hai'. Starring Tusshar Kapoor and Ayesha Takia, the film also boasts of a sizzling dance number by Kareena Kapoor.
He reveals what led him to make the film on just how he came to be known as 'Lovely Singh'!
Filmmakers always claim that their film is different from others. How different is Kya Love Story Hai?

There is no definition of 'different' today. Let's face it – everything depends on success. If the film is a hit it is said to be different, otherwise it is run-of-the-mill!
So what is the USP of Kya Love Story Hai?
From the story, to the look and characters, I have kept everything about this romantic comedy extremely simple. What should work for the film is its inherent simplicity! Then Pritam has given mind-blowing music and the feel of the film is very young.
You have assisted Satish Kaushik on several films. What have you learnt from him as director?

When I was working with Satish, I found him to be one of the most flexible directors, one who gives his actors a lot of space and freedom. It's one rule I followed as well. But eventually each person lends his own touch and I have also given the film a distinctive flavour.  
Was the story idea of Kya Love Story Hai yours?

I always knew I would make my debut as director with a love story, but I wanted a professional writer to pen the subject. So I asked Rahul Singh, a writer friend, to script one for me. This is his first project as well. It is a commercial entertaining love story, which has been made special by its treatment and execution.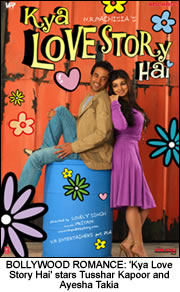 What prompted you to sign Tusshar and Ayesha as your lead actors in Kya Love Story Hai?

Tusshar is a close friend and I find him to be an extremely sincere actor and one who takes a keen interest in every department of filmmaking…. that is very rare for an actor to do. Contribution from actors always adds to a film. He has no airs and attitude. On the other hand, Ayesha is one of the rare actresses we have who connects to the audience because of her freshness and innocence. She is also the kind of girl every boy would want to take home to his mother. As an actress, she is a natural and extremely spontaneous. She is an asset to any film. Tusshar and Ayesha look good together, like a young and typically sweet couple-next-door.
How did you rope in Kareena Kapoor?

Kareena is a friend who did not think twice about agreeing to make that sensational appearance in my film. In fact, she loved the song we recorded with Alisha Chinoy, put to music by Pritam. She also took a keen interest in her look, the dance steps and backdrop of the song. Not surprisingly, the song is a huge hit and is doing extremely well on the charts!
What made you choose Cape Town as the backdrop of your film?

For a total romantic, beautiful visuals are essential to support and enhance the film. As locations like Dubai and USA have been used as the background for umpteen films, I opted for Cape Town where I have exploited the breathtaking seaside locations as the backdrop in the second half.

 
What's with your name, Lovely?

(Laughs) Well, my real name is Rakesh! I know many people find my name funny and unusual but it's my nick and I'm happy with it! That's how everyone in the industry has known me from the beginning and it at least it sticks on in people's minds!
What are your expectations from Kya Love Story Hai?

I have huge expectations from Kya Love Story Hai because it is a film for a universal audience and will touch a chord in everyone's heart. In any case, glamour, romance, music and emotion appeal to audiences from every age group.
What are you working on next?

I am waiting for the response to Kya Love Story Hai…. before I apply my mind to anything else!

 
Kya Love Story Hai releases in the UK on April 20 
Related Articles: