 Pakistan coach dies of suspected heart attack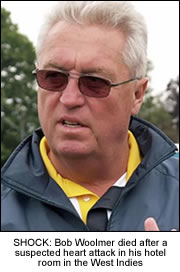 HUINDREDS of tributes have begun pouring in for former England cricketer and Pakistan coach Bob Woolmer who died suddenly this weekend from a suspected heart attack.
The 58-year-old was found unconscious in his room at the team's hotel less than 24 hours after he saw his team crash out of the World Cup at the hands of lowly Ireland.
He was rushed to hospital but doctors were unable to save him. His death was announced by Pakistan's media manager Pervez Mir to waiting reporters who had gathered outside the hospital.
Woolmer was found on the floor of his hotel room on Sunday morning by team officials who became concerned that he had not been seen since the previous evening.
Mir said the Pakistan coach had blood on him and there was vomit on the walls.
A coroner's inquest and autopsy is expected to take place to determine the cause of death.
As news of his death filtered through the cricketing world it left many in shock. Speaking to reporter's moments after hearing the news, a visibly distraught Inzamam-ul-Haq said: "I am shocked and badly hurt. We have lost a good coach and a good person." As the Pakistan players gathered in the foyer of their hotel, a distressed Mushtaq Ahmed broke down in tears, unable to hide his anguish after hearing of the news.
Woolmer, who had a distinguished career as both player and coach, was expected to step down as Pakistan coach after the World Cup with his contract nearing its end. Reports had linked him to the England job with which he had an illustrious career as player.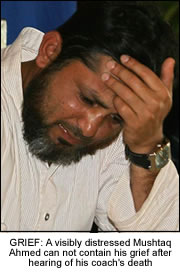 Former Pakistan cricketer Rameez Raja paid tribute to Woolmer saying he had succeeded in building bridges within the Pakistan squad.
"What Bob Woolmer did for a team that was at war with each other was truly remarkable. He gave them a sense of direction, belonging, presence and a feeling of togetherness," he said.
Pace bowler Shoaib Akhtar, who missed the world cup through injury, also paid tribute to his former coach.
He said: "We had a marvellous time together. Can't believe it happened. It happened so quickly. We can't do anything about it… huge tragedy for Pakistan cricket, a huge shock for the nation. Don't think I can take it very well…. Was a lovely man, very understanding."
Woolmer was seen by many as a pioneer of the game as both player and coach.
After a successful career as player for Kent and England in which he was named one of the five Wisden Cricketers of the Year in 1976, he tried his hand at coaching in 1991 when he was appointed director of coaching at Warwickshire.
The team enjoyed their biggest success under Woolmer, winning three out of four trophies, and runners-up in the NatWest Trophy, in 1994.
During 1994-1999 he turned South Africa from a second-rate team to world beaters. During his tenure the team emerged as one of the leading one-day sides winning 83 out of 11 matches.
He took over from Javed Miandad in June 2004 as coach of Pakistan after turning down an offer to coach England and Sri Lanka.
Known for their internal bickering, Woolmer transformed the team and led them to some of their greatest victories over rivals India and England.
But all wasn't well with the Pakistan team in the months leading up to the cricketing showpiece. The ball-tampering row against England, drug bans for Shoaib Akhtar and Mohammad Asif and a blazing row with Akhtar caught on camera in South Africa had led to the inevitability that the 2007 World Cup would be his last outing as Pakistan coach. No one had hoped it would be his last in life.

Tributes to Bob Woolmer: 1948 – 2007
"The news was pretty devastating, to be honest. He was a very, very close friend, actually more than as a coach…. He was a very respected man. We were together with Warwickshire and South Africa. Bob was an extremely professional man, was an extremely soft person, gave his life to cricket and probably paid for it."
Allan Donald
"One of our 12th men bringing drinks out told us about it. Everyone just stood back in shock for quite a while. When I was out in the field I was thinking about lots of different things for probably the last 10 or 12 overs of the game. Everybody was immediately saddened by what we heard. We have played a game of cricket, but there are a lot of bigger things happening around the world. There always is. We sometimes get a bit carried away with what we do in sport. But when something like this happens it certainly rams home that there are other things around you all the time, happening."
Ricky Ponting
"On behalf of the England cricket team we know there has been a sad loss to the world of cricket with the death of Bob Woolmer today. We know how much he has had an impact on the world game, the English game and we know how greatly missed he's going to be. Today's win and the incidents of the last 48 hours have really hit home to us when we heard that Bob had died when we were on the field today. All our condolences go out to his family. It was only last Saturday that I was in the swimming pool in Montego Bay just talking to him. We were having fruit punches together just discussing the game and certain aspects of it. He was a great talker about the game, he had many ideas and innovative ideas and brought new things to the game. It's so hard to know that only five days ago you were in the swimming pool with him and now he's passed away. He's going to be greatly missed."
Michael Vaughan
"I first met Bob Woolmer in 1972 when we were playing the one-day series in England. He was picked in the England side as a one-day specialist. The Australians tended to laugh about this, feeling that either you are a good cricketer or you are not. You didn't need specialist for different types of games. Anyhow I was soon laughing on the other side of my face, because in the first game he clean bowled me and he might have got my brother Greg as well. We then became well and truly aware of Bob Woolmer in 1975, when he got a century at The Oval. He batted for three days, to help England save the game in the fourth Test match in the 1975 series. The thing I admired about Bob, was that he enjoyed helping young cricketers. He really had a genuine love for the game and liked passing on his knowledge. The cricket world will be all the poorer for his passing."
Ian Chappell
"My immediate thoughts are with his family and the Pakistan team and my deepest condolences go out to them. I had a wonderful relationship with Bob at Warwickshire in 1994 and our relationship continued to grow over the years even though we sat in different dressing rooms. He was a very focused man with a great love for the game but what shone through was the great love he had for players under his charge, everyone meant something to him."
Brian Lara