 Akshay Kumar on 'Namastey London'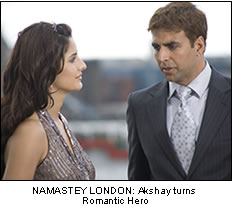 For so long actor Akshay Kumar was the typical Bollywood action hero. So what's made him want to swap his boxing gloves for romantic poetry? In his latest film Namastey London he plays Arjun, a Punjabi boy who travels to London to win the heart of Jazz, played by Katrina Kaif. The film is Akshay's biggest blockbuster do far for 2007 and has been billed as one of the films to watch out for in March. We caught up with the Bollywood heartthrob to find out why Akshay was so keen to be part of the film….
What was it about Namastey London that attracted you to the project?
I initially read through the script and thought the character sounded a lot like me, someone with good ideals and who is proud of his background. A role can be a lot easier to get into when you have something in common. I have worked with Vipul in the past and we have always had a good working relationship. This was yet another opportunity to be part of something exciting as this is his first love story and also because the films crosses over on a global scale.
You've become quite the romantic hero. How does this genre suit you as an actor?
As an actor, I would like to think that I am capable of fulfilling many different roles. I think it's crucial to have this flexibility. In terms of me as a romantic hero, I do my utmost to act as best I can and portray the right image of the character.
You worked with Vipul Shah on 'Waqt'. What is it about him as a director that makes his films so appealing?
I also worked with Vipul in Aankhen. Vipul always gives me challenging roles with fantastic storylines. The emotional content in Vipul's films are always very real and hard-hitting. For example Waqt was very close to my heart; it took a lot from me as an actor and has been one my most challenging roles so far.
Tell us a bit about your character in the film
Well… I play Arjun an Indian Boy from Punjab who marries his dad's friend's daughter 'Jasmeet' a British Asian Girl. At first Arjun is delighted to be marrying 'Jazz' as she likes to be called, but he then realizes she is in love with her English boss Charlie. Arjun 's character really comes to life when he tries to win over the love of his life and the people of London while managing to hold onto his strong Indian heritage and culture.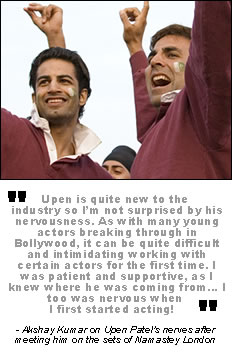 According to some reports Upen Patel got very nervous after meeting you on set so much so that he couldn't deliver his scene. What was your reaction to this?
Upen is quite new to the industry so I'm not surprised by his nervousness. As with many young actors breaking through in Bollywood, it can be quite difficult and intimidating working with certain actors for the first time. I was patient and supportive, as I knew where he was coming from… I too was nervous when I first started acting!   
Much has been made of your singing in Namastey London. Is this something you'd like to pursue more?
Singing is something I enjoy and is more of a hobby than a career, so I think I should stick to acting. I'm proud to be part of not only a good film but also a great soundtrack. Unsurprisingly, the Namastey London CD is doing really well in the movie music charts so I hope my singing isn't that bad a contribution!
This is your second film with Katrina Kaif and you seem to have that natural chemistry akin to Shah Rukh and Kajol. What was the experience working with Katrina this time round?
As always Katrina was a delight to work with, coming from outside India I really admire the way she has become so successful in Bollywood. It can be difficult to break into an industry when others might think you don't belong , but I think she has come in and done extremely well. 
How did you find filming in London? Do you prefer more sunnier climates?
Filming in London was quite hectic, as I was shooting for both Namastey London and Bhagam Bhag in a short period of time. The weather was surprisingly good at the time so no complaints there but everyone keeps telling me how cold it can get. I can believe this, as there was the odd occasion when I had to wrap up.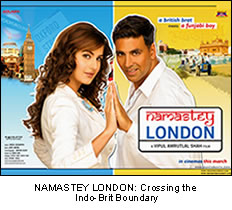 The film has quite a mixed production crew in terms of their backgrounds (Keith Hatcher -Harry Potter & the Sorcerer's Stone, production design Paul Burns -The Business, The Football Factory. What does this say about the direction Bollywood is going?
Indian films are becoming more and more popular globally so this collaboration with production crews from the UK is only natural in the development of Indian Cinema. Indian Cinema can learn a lot from production crews that work in English films and Vice Versa. Although Hollywood may be more popular, its not to say we can't learn from one another. Namastey London definitely taught me a lot and I think the Bollywood crew benefited heavily from this.
Finally, what other projects have you got lined up for 2007?
Well… very much like 2006, 2007 is going to be an extremely busy year for me. I've just recently finished filming in Sydney for a film called Hey Baby coming out later this year so watch the space…
Namastey London is out on 23 March.
Interview by Zakia Yousaf