 'The Namesake' gears up for UK release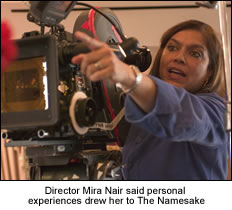 A MAJOR international bestseller and chosen by The New York Times, USA Today and Entertainment Weekly among many others as one of the Best Books of the Year, Jhumpa Lahiri's novel The Namesake transports readers deep into the lives of an unforgettable immigrant American family.
Having grown up in Rhode Island as an Indian-American herself, Lahiri wrote from the heart about a subject she knows from the inside out. As with her Pulitzer Prize-winning collection of short stories, The Interpreter of Maladies, Lahiri's debut novel was celebrated for illuminating themes of identity, belonging, becoming an American, as well as death, marriage and family love, that struck a chord with people from all backgrounds and all around the world. Most of all, The Namesake was lauded as a moving portrait of how one generation's sacrifices lead to the triumphs and opportunities of the next. 
"Gabriel Byrne had raved to me about the novel The Namesake while I was dubbing for Vanity Fair, which was a remarkable coincidence since I was already reading the novel at the time," says Nair. She was struck speechless by the novel– in part because the story seemed to so closely reflect her own experience. "Here was the story of a young girl who traveled from Calcutta and wound up in New York City, which is almost precisely the same road I traveled," notes the director. "I thought it was a deeply human story about the millions of us in America who have left one home for another and learned what it truly means to combine the old with the new." 
Nair's films have often crossed cultures. She burst into the filmmaking world with Salaam Bombay!, an extraordinarily powerful tale of street children trying to survive in the slums of Bombay. She then radically switched gears and headed to the southern United States to direct the indie romantic comedy Mississippi Masala, starring Denzel Washington and Sarita Choudhoury. Since then her films have leapt from one compelling territory to the next: from the 16th Century India-set romance Kama Sutra to the Golden-Globe® winning HBO telefilm Hysterical Blindness set in 1980s New Jersey; and, more recently, from the evocative tale of a cross-cultural marriage ceremony, Monsoon Wedding, which won the Golden Lion award at the Venice Film Festival, to her sumptuous screen version of the classic Vanity Fair, starring Oscar® winner Reese Witherspoon as Becky Sharp. 
Having just faced the death of a loved one herself, Nair felt a profound connection with the story of Lahiri's novel. Nair explains: "I think out of all my films, The Namesake is probably the most personal. When I read Jhumpa's book it was like I had just met a person who completely understood my grief, who knew the cocoon I was in and everything I was experiencing and I told myself that I must buy the rights immediately." 
Nair was also attracted to a unique chance to combine cinematic portraits of her two favorite cities on opposite sides of the globe: New York and Calcutta. "I saw an opportunity to unite these two equally exciting worlds that I know and love and have lived in all my life," she says. "I also wanted to capture visually the dizzying feeling of being an immigrant where you might physically be in one particular space yet you feel like you are someplace else in your soul."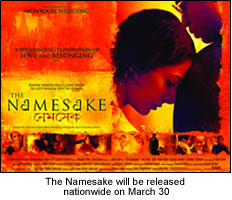 Nair's long-time producing partner, Lydia Dean Pilcher felt right away that The Namesake was a perfect match for the director's next project. "It was obviously a piece that really spoke to Mira, very deeply and in a personal way," says Pilcher. "This was clear even in the urgency she felt to make this project happen right away. It was great material for her, because Mira has such a rare ability to take a very specific story and open it up into a universal story that everyone can relate to and take something from." 
To begin, Nair interviewed Jhumpa Lahiri at length, and even visited her family members to get a keener and more intimate sense of the characters, their background and the pressures they feel as they attempt to maneuver through two different worlds. Lahiri found herself won over by Nair's approach. "I don't think I would have been interested in making the movie if it were for any other director," she states. "But I have so much admiration for Mira and the journey she's made as a filmmaker in this country, bringing out the Indian experience in such a fresh and innovative way – I really see her as a pioneer. She's so passionate that she swept me and my entire family along in this film!" 
In approaching The Namesake, Nair wanted to be as faithful to Lahiri's story as a screenplay structure would allow. Her only major change to the characters was giving Ashima the background of a singer so that she could integrate the beauty and emotion of the Indian music she loves so much into the story. Nair next brought in her long-time friend and collaborator, screenwriter Sooni Taraporevala, with whom she had studied at Harvard and previously collaborated on Salaam Bombay! and Mississippi Masala, to tackle the adaptation. 
Taraporevela had her work cut out for her, but found ingenious ways to turn Lahiri's subtle prose into imagery and drama. "Sooni and I exchanged a lot of notes back and forth," explains Nair of their process. "For me, it is absolutely essential that any film I make has both tears and laughter so we used every opportunity available to expand on the more humorous and poignant scenes in the book." 
Lahiri herself was taken aback by the resulting screenplay. "I really didn't believe that my book could be translated into film," she admits. "There's so much description and summary — but Mira and Sooni had read the book so carefully they were able to coax out the dialogue and action that is implicit. I could never have done this as the writer of the novel, but I thought what they did worked remarkably well."
The Namesake releases nationwide on March 30