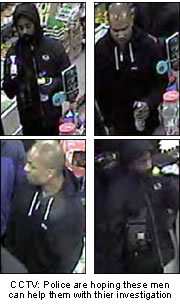 POLICE investigating the murder of a Birmingham shopkeeper who was shot dead at his grocery store have released CCTV images of four men they are trying to trace.
The images have been taken from the Supermalt Afro-Caribbean grocery store owned and run by 24-year-old Mohammed Basharat.
The father of two was gunned down in cold blood during a week of violence in the Aston and Lozells area of Birmingham in November last year.
Two men were seen running away from the shop moments after Mr Basharat was shot.
Detectives are still struggling to find a motive for the shooting and are hoping to trace the men who were captured by shop CCTV cameras a month before the killing.
A spokesperson said: "Officers are keen to trace the following persons as they may contain crucial information to assist with the enquiry."
Mr Basharat had only owned the store for five months before his murder.
His family were hit with tragedy three years earlier when Mr Basharat's brother Mohammed Sabir was gunned down in Lozells Road.
Mr Basharat's cousin Tariq Rashid described him as "respected family man" and "loving husband and father".
"Mohammed Basharat was a respected family man, loving husband and father of young children.
"He was a young entrepreneur who dedicated his life to running a business. He started at 4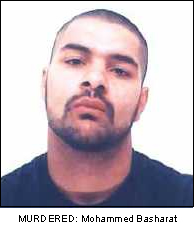 in the morning, often not finishing until 10 at night, while also doing a college course in motor mechanics. This just shows how hard working and dedicated he was."
"He worked and socialised with all communities in Lozells, holding barbeques where everyone was welcome.
His shop had customers from across the community – he was a multi-cultural businessman.
"We don't know why this terrible thing happened to him – he was simply a hardworking and respected trader going about his business."