 THE FAMILY of a pregnant woman killed in a hit-and-run incident alongside her nine-year-old son and unborn child in Birmingham have lashed out at Britain's legal system after her killer was sentenced to seven years.
28-year-old Sarah Hunt, who was 30 weeks pregnant was hit by 19-year-old Raja Ibrer Faisel and dragged 450 yards under the wheels of his Nissan Micra on the A45 on October 2.
Her nine-year-old son Kieran and unborn child were also killed.
Mrs Hunt's seven-year-old son Ryan was also hit but survived despite suffering multiple injuries.
The accident was witnessed by the children's disabled father just yards away.
Faisel, from the Small Heath area of Birmingham, admitted causing the deaths of Mrs Hunt and Kieran by dangerous driving and was sentenced to seven years at Birmingham Crown Court.
But the victims family hit out at the jail term describing it as "disgusting".
A statement read out on behalf of the family said: "What kind of sentence would ever be good enough to cover the amount of life that has been lost and devastated? None.
"As a family we are disgusted at the sentence which only amounts to 18 months per life. In three and a half years time he will be able to rebuild his life while Sarah, Kieran and Connor's journey has ended.
"Something needs to be done about the law regarding unborn babies as this man killed three people and left three devastated children behind."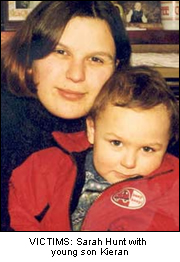 In sentencing Faisel Judge John Saunders, QC, said he was limited by sentencing guidelines, adding: "It cannot measure the value of the lives lost."
The court was told Faisel, who worked as a taxi driver, was doing at least 50 mph in the 40mph speed zone when he struck Mrs Hunt and her children.
The mother of two other daughters became trapped under the wheels of the car and was dragged more than 450 yards.
Faisel then tried to leave the scene3 of the crash and attempted to escape on foot before he was finally caught by a chasing member of public, Birmingham Crown Court was told.
At first he denied being in the car saying his friend was at the wheel.
He later told the police he had been driving but had not seen Mrs Hunt and her children in the road.
He added he did not know Mrs Hunt was trapped under the wheels of his car despite the fact that he could no longer steer properly, the court heard.