 Abhay Deol Interview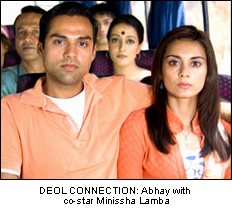 Abhay Deol has played the intense guy in Socha Na Tha and Ahista Ahista. Putting that to one side, the dimpled Deol returns in director Reema Kagti's Honeymoon Travels, as he frolics, romances and dances in delectable Goa!  "I've realized I can also do light-hearted roles with élan," quips the youngest Deol on the block, as he talks about his latest flick by Farhan Akhtar, releasing on February 23.
A travel agency offering package tours for honeymooning couples, and taking six such couples on a bus ride in Goa! How did Reema Kagti's idea appeal to you for her film, Honeymoon Travels…?

It was a brilliant narrative and I laughed as I read the concept on paper. The script brought out this most beautiful phase in the lives of six couples in a very quaint and funny way.  
The promos of Honeymoon Travels show you having a ball on the beaches and doing the tango on a yacht with your screen wife. Did it instill a desire to go in for marriage in real life too?
Oh, it was fantastic to play a newly wedded guy for the camera! But in real life I am quite happy being single! Trust me on that! (Laughs)

You seem to be very adept at doing the tango as we can see in your track Pyaar Ki Ek Kahaani Suno…

Actually like Sunny Bhaiyya (Sunny Deol) I have two left feet! But Reema Kagti had choreographer Kunjan specially flown from Mumbai to Goa to train Minissha and me for almost two weeks. I always thought I was a clumsy dancer, but Minissha had full faith in me and the final result as you can see, is pretty decent! (Laughs)
Since you are on your honeymoon in the film, any bold scenes between you and Minissha?

The intimate scenes are romantic but comic. Nothing that I would ask for a retake during the shooting! (Laughs).  
You think a woman director was the right choice to handle a subject like this?

For me it is not whether a director is a male or female. It is either he knows his work, or he doesn't, and Reema Kagti knows her job! It's as simple as that! Her understanding of cinema was evident in her framing and shot taking. She had a clear picture of what she wanted and for an actor that is very comforting.
Considering Honeymoon Travels has such a huge ensemble cast, did you ever feel you would get lost in a crowd?

Never! Each of the six couples, whether it is Shabana Azmi and Boman Irani or Ameesha Patel and Karan Khanna, has his moments. At any given time one couple is in the forefront while the others are in the background. All of us have equal footage.
Tell us about Minissha and you in Honeymoon Travels

We are Aspi and Mini, a Parsi couple who know each other since childhood, and are now newly married. We make a perfect pair as we know and understand each other perfectly well. But whether that's really the case or not you'll find out in the film!
Is Mini the kind of person you would like to be with in real life too?

Oh, Mini is the ideal partner, but in real life I would like to be with someone who is sporty, and a more outdoor kind of person.
Anything that happened during the shooting of Honeymoon Travels that you will always remember?

The entire shoot was like a picnic as we all bonded very well, but I cannot forget how Devraj, the AD (assistant director) had to drag us out of bed every day at 4am, and see that we got ready for the shoot. There were twelve of us and as each one of us would be in different stages of grooming, one with the hair being combed, the other with make up etc. At that time I realized what my dog must be feeling when he was being readied for a dog show! (Laughs)  
Besides your track, which other couple's track did you find interesting in Honeymoon Travels?

I really like Kay Kay and Raima Sen's track. They had a fantastic rapport and will stay with you as a couple after the film is over.
How did you find Goa as a honeymoon destination?

Goa is my favorite holiday destination, and I head for it whenever I can. But I have seen it, and done it all.  In real life I would probably head to Europe with my wife!
What are your expectations from Honeymoon Travels?
Huge! I have great expectations from the film! Even the music is doing very well!
Anything you learnt during the making of the film?

Not to go for a package tour for my honeymoon! It is fun on reel but I am not sure how it would work in real life!
What next after Honeymoon Travels?

There is 1.40 Ki Last Local, a one night story, then there's Meridian, a murder mystery, and presently I am shooting for Manorama in which I play a young man based in Rajasthan.
What is your message to the Indian audiences abroad?

Keep watching Hindi films but make an extra effort to support new-age progressive cinema!

Honeymoon Travels releases worldwide on February 23
Related Articles: