 Bollywood Interview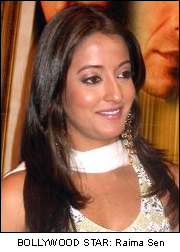 Raima Sen, the grand daughter of the legendary Suchitra Sen, has proved her acting prowess with films like Godmother, Daman, Choker Bali and Parineeta. With director Reema Kagti's forthcoming Honeymoon Travels, in which she plays a la-di-dah and daring newly wed, this talented actress displays her flair for comedy as well. Raima Sen talks about her role in Honeymoon Travels, due to be released on February 23rd.
You seem quite enamored by your reel husband, Kay Kay Menon. You made headlines during the shooting of Honeymoon Travels Pvt. Ltd when you said in an interview you wished that he was single!
Oh dear, the journalist just concocted that sentence to sensationalize his story. Kay Kay intimidates everyone with his imposing personality and acting prowess, and I find that very hot. In the interview I had just said that I find Kay Kay hot, nothing more!
The film is about six honeymooning couples on a package tour to Goa, what is your role like?

I play Mini, this newly married Bengali girl. I identify completely with my character as I am also a Bengali. Like her I only appear to be docile but am in reality, pretty dominating, and very adventurous too! So watch out for me para-sailing in a sari, doing fight sequences, karate and boxing. It's all so hilarious and fun to watch! You just have to watch Honeymoon Travels….
What about Kay Kay, your reel husband?

Oh, you should see Kay Kay who appears more Bengali than I do! And watch him in this dance sequence (Sajnaji Vaari Vaari) where he is supposed to have taken ecstasy. He had to do some movements which all the other characters, including me had to copy.  Though Kay Kay is not a dancer he got so involved that without choreographer Farah Khan's instructions he started doing these funny movements on his own, and we all started copying him. When you watch the song, Sajnaji Vaari Vaari, you think it is choreographed but it is not really!
What about the other couples' tracks?

I think director Reema Kagti has come up with impeccable casting. Like Ameesha is this woman who loves everything pink and feminine, which is so like her in real life too! Then Shabana Azmi and Boman Irani play this very sporting elderly couple, Abhay Deol and Minissha Lamba are a funny yet endearing Parsi couple…..everyone is so appropriate and right!
Since all the couples are on a honeymoon will we see many intimate moments between them?

Of course, there are intimate moments between every couple, but none of them are vulgar or titillating. Either they are tender, like the one between Kay Kay and me, or they are comic like those between Abhay Deol and Minissha Lamba .
How did you find the idea of going on a honeymoon with a package tour?

When Reema approached me I read the entire script and even though I found the idea of going on a package tour for a honeymoon with unknown people bizarre, the entire concept was extremely hilarious and interesting. But once we started shooting the film with all the traveling in a bus and sharing our experiences, I thought it was not such a bad idea after all!
Did you not think that there were too many actors in the film?

I did but only initially! But seeing Reema's confidence I knew she would not give anyone a chance to complain! She made sure everyone got equal footage.
So you would go for a package tour on your honeymoon?

I am not thinking of marriage for another two years, but yes I could contemplate going for my honeymoon on a package tour. But the destination would most probably be Venice or Jo'burg!
What are your expectations from Honeymoon Travels….?

I have great expectations from the film – it is so whacky it has to work. Personally, I hope to get more offers for comic roles!
What are the other films you are looking forward to?

I am waiting for Eklavya in which I play the part of Nandani, a young woman with the mind of a 10-year-old. Then there is Manorma, Khela, The Bong Connection (about Bengali NRIs), and Meridian opposite Arjun Rampal.
What would you like to say to the Indian audience abroad?

Watch this film (Honeymoon Travels…) on newly weds. It is not only about love and romance, it also brings to the fore the nitty-gritty and problems of this delightful time in a couple's life. The film tackles issues, which all newly weds will be able to identify with, and have been conveyed by Reema (the director) without any sermons or serious stuff! It's pure fun!
Studio 18 will release HONEYMOON TRAVELS… internationally on February 23. The film will play at Feltham, Ilford, Wandsworth, Woodgreen, Wolverhampton, Bradford, Luton, Harrow, Leicester, Manchester, Blackburn, Glasgow Quay and Birmingham.