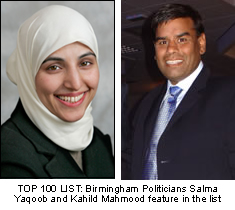 A SPECIAL ceremony has taken place to launch a list of the top one hundred influential Muslims.
Nine individuals were awarded Muslim Power 100 Excellence Awards and an achievement award made for 'Outstanding Contribution' was made to Dr Hany El Banna, founder of Islamic Relief, in a ceremony hosted by the Islamic Bank of Britain.
The ceremony also officially announced the Power 100 list of influential Muslims which included singer, Yusuf Islam and Sun journalist Anila Baig.
Lords, entrepreneurs, financiers, scientists, lawyers and community leaders also dominated the list. 
It included curry king Sir Gulam Noon, worth £55 million, solicitor Imran Khan, and former head of the Muslim Council of Britain, Sir Iqbal Sacranie. 
Others included Muslim Labour peer Baroness Uddin, Britain's most senior Asian policeman, Tariq Gaffur, Independent columnist Yasmin Alibhai-Brown and businessman Sir Anwar Pervez.
Sultan Choudhury of Islamic Bank of Britain said: "We feel that it is now more important than ever to recognise the valuable contribution the Muslim community has made to the social, cultural and economic well-being of Britain. Islamic finance is the fastest growing sector of banking in the world and Islamic Bank of Britain has pioneered Islamic banking in the UK. Our work has brought us into contact with thousands of Muslims who are adding value to their communities and making a collective contribution to society. Not only does this list recognise exceptional achievements, but it also illustrates the opportunities for success available for Muslims in Britain."
More than 5,200 nominations were received as part of the list.