 Brit star back in February Rom-Com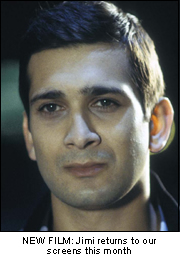 He made his name in great British flicks 'East is East' and 'The Guru', and after a short spell away from the big screen, Jimi Mistry is back this month in romantic comedy 'The Truth About Love'. Starring opposite the stunning Jennifer Love Hewitt and Dougary Scott, Jimi plays a womanising lawyer who is put to the ultimate 'trust test' when he is sent an anonymous Valentine's card by his wife. We caught up with Jimi to find out about his role in the film and his plans for the year.
Jimi, you're back on our screens next month with The truth about love. British rom-com's seem to do very well (Bridget Jones's Diary comes to mind). How hopeful are you of the films success?
I'm hoping people will go out and enjoy watching this movie. You are right, British rom-coms do seem to do very well, and this film is definitely in that mould.
How did you get involved in the project?
I was sent the script by the director John Hay a few years ago when he was trying to get the project off the ground and I instantly liked it. John was very keen to cast against type so asked if I would consider the role of Sam, the womanising, cheating husband as opposed to the more likable character of Archie played by Dougray Scott. Usually I would be considered for the more lovable role so this was a big plus for me. I then met John, we clicked and I went on board for the project.
What was it like working with Jennifer Love Hewitt and Dougray Scott?
An absolute Pleasure! Jennifer was very down to earth and lots of fun to be around, I had worked with Dougray before but we had a right laugh on this film, I think when you are doing a comedy the atmosphere on set can be a lot more lighthearted and we certainly had a ball!
Many men may relate to your character Sam, what was it like playing him?
Many men might relate to him I'm sure, but the moral of the story is that if you behave like him, you will end up like him -with nothing. Although Im not at all like Sam in real life he was a lot of fun to play, the dastardly lothario!!
You seem to have a busy start to 2007. You're in Blood Diamond opposite Leonardo Di Caprio. How does working in Hollywood compare to the British film scene?
Money essentially! There's lots more of it in Hollywood and I don't mean for the actors but the budgets for the films themselves. Its the same process of making the film but on a much grander scale and Blood Diamond is a big scale movie compared to most of the films made in this country
We'll also see you in 'Partition' where you wear a turban! What was this like? Is it something you could get used to?
Partition is an epic romantic drama set during the partition of India in 1947. I play a sikh army officer called Gian singh who falls in love with a young muslim girl called Naseem. The story is about their love and the lengths that they go to for each other at a time where their love is forbidden. I filmed on and off for about 3/4 months so i was a sikh for quite a while. Like any character you immerse yourself into the role so after a short time I felt very comfortable as the character Gian so wearing a turban was no problem at all!
You've played a number of 'Asian' characters in your films. Is it easier to play these characters because of your Asian background?
Well I think it would be pretty difficult to portray some of these characters if I didn't have an Asian background, but most of the characters Ive played are very much 2/3rd generation characters as well as characters like Sam in this film where their background is not an issue, so the cultural side doesn't become a major issue for me.
Finally, what other projects do you have lined up for 2007?
I think for the first time in a long time Im not quite sure what is next, but something different again i hope!
Interview by Zakia Yousaf
The Truth About Love is released nationwide on February 16th