 Hundreds brave cold to see BB winner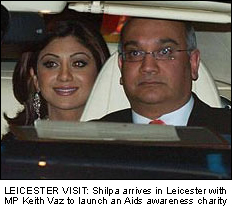 BIG Brother winner Shilpa Shetty caused pandemonium in Leicester after visiting the Midland's city to launch an Aids charity.
Hundreds of fans waited in the freezing cold to catch a glimpse of the star who had earlier caused a media frenzy when she visited the Houses of Commons.
She arrived in Leicester alongside her mother Sunanda and Leicester East MP Keith Vaz, who arranged the trip.
Police were forced to cancel the Bollywood stars appearance at Leicester-based Sabras Radio, in Belgrave, after hundreds of fans gathered outside the station's offices.
But the 31-year-old did manage to make it to the Peepul Centre where she launched a charity in her name aimed at raising awareness about Aids in India.
Speaking at the launch, the Bollywood actress said speaking on the Aids crisis in India was something "very close to [her] heart".
"It is a cause that has been very, very close to my heart. Not just now but for the last four years", she said.
"India is the second largest affected country in the world with the Aids. So I think it's important to do something about it and it's every person's right to live with dignity in our country, even it's a person who is HIV positive.
"It's very difficult to do that only because there's no awareness and I am going to do my bit to support that and I think starting this organisation is really going to help us try a new beginning."
Just hours earlier the Bib Brother winner met with Prime Minister Tony Blair at the Houses of Commons where she thanked him for his support during the highly publicised bullying and racism row in this year's Big Brother house.
She was mobbed by photographers and the press as she arrived at hub of Britain's political arena alongside MP Keith Vaz.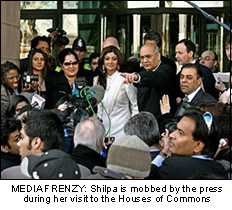 Speaking to reporters following her short meeting with Mr Blair, she said: "Mr Blair was very kind. He said he was very sad to see what I had to go through and in turn thanked me personally for the support he showed me and my country."
The Bollywood beauty has become a huge star in Britain following her victory in the Celebrity Big Brother house. She is all set to meet her Majesty the Queen in March after being invited to a reception at Marlborough House in London to celebrate Commonwealth Day.