 How Steven Baker is living the Bollywood dream
Camera, lights, action! Picture the scene: sultry Kareena Kapoor glides across a vibrant Mumbai set pouting her lips at her equally delectable co-star. As the stars break into song and dance, a hundred extra's pile into the shot, one of whom looks like he may just have wondered into the wrong building. He's remarkably fairer than anyone else in the shot (yes, even foundation and powder-clad Kareena) and if you look closely enough you'll soon realise this man is not from India. He is, of course, 26-year-old UK born and bred Steven Baker, a co-ordinator for the British Council's creative Writing course in New Delhi and, wait for it, a Bollywood extra!
In an industry where many dream of making it to the mountainous peak of the industry and rubbing shoulders with the likes of Amitabh Bachchan and Shah Rukh Khan, Steven is happy enough with his 5 minutes of fame in which he has enough time to bust a few Bollywood moves and be beamed across cinema's from Putney to Pune. A seasoned regular on the Bollywood extra circuit, Steven, who has written extensively on the Indian film industry, has 15 Bollywood movies to his name which have included 36 China Town, Kabhi Alvida Na Kehna, Jaan-e-man, Baabul, Salaam-e-Ishq, as well as voice dubbing for Krrish and the Amir Khan and Kajol starrer Fanaa. Not bad for a former University lecturer in sunny Melbourne! We caught up with Steven at his Mumbai residence to find out what made an Englishman in Mumbai fall in love with Bollywood.
What attracted you to Bollywood?
I first visited India in 1999, and remember my introduction to Hindi film was 'Biwi No 1'. At the time I didn't know that much about Bollywood, or even who the lead actors were. I do however remember being taken away by this very different, fascinating and exhilarating media. Over the next 5 years I was lucky enough to return to India every year, and maintained a passing interest in Bollywood. On my trips I would always make sure I saw the super hit of the moment. It wasn't until 2005 though that my interest in Bollywood developed into an obsession. A lecture in Melbourne that I attended 'From Mother India to Bollywood' by Audrey Yue, make me appreciate the academic qualities of the genre, and provided a deeper insight into the many facets of the industry.

How did you get your first extra part in a Bollywood movie and what was the experience like?
I arrived in Mumbai with my CV, my casting shots, and a lot of determination and enthusiasm. Within a week I had secured my first part: shooting on the title song for Salaam-e-Ishq with Nikhil Advani (director of Kal Ho Naa Ho- my favourite film). The shoot lasted 5 days, and we were on location at Karjat studios. When we got back I immediately started shooting on my next film, and since then I have never looked back. The experience was fascinating, an unforgettable first introduction to the industry. I met lots of useful contacts, and have had the title song from the film in my head since November 2005.
Do you get raised eyebrows when you walk onto film sets?
It depends. If it's a Yash Raj production, or a Karan Johar film, then there will be lots of foreigners on set. In the beginning, yes, there were raised eyebrows, but now most people seem to recognise me, or have read my writing on Hindi film. It's actually a very small industry, so you see the same faces again and again.
What's it like being an extra on a Bollywood film?
For Steven Baker it's an ideal job! Being paid to dance in a Hindi film song with my favourite actors, whilst wearing a shiny shirt and silver pvc trousers – what's not to like? But it's not all glamour. The hours can be very long, and in the summer it can get very hot under the studio lights. When you have been dancing for 12 hours and it's 10 o' clock at night, you really have to push yourself when Farah Khan asks you to give 'full mood yaar'.
Which stars have you met and what were they like?
I have worked with most of the big name stars in the industry: Amitabh Bachchan, Abhishek Bachchan, Salman Khan, Akshay Kumar, Shahid Kapoor, John Abraham, Anil Kapoor, Akshaye Khanna, Johnny Lever, Paresh Rawal, Emraan Hashmi, Arjun Rampal, Preity Zinta, Rani Mukherjee, Priyanka Chopra, Kareena Kapoor, Katrina Kaif, Juhi Chawla etc. In my experience, most of them have been charming, and you get to see another side to them than you would if you met them as a fan.
As a writer, I of course give some insight into who they really are as a person. But I don't reveal too much, after all they are my colleagues; and a week later I may be working with them again. Once I quoted something that Farah Khan had shouted on the set of Jaan-e-man, in a national Indian magazine only to then feel tongue tied and squirmish when we spoke again on KANK's 'Rock n Roll Soniye'.
People in my neighbourhood, my security guard, my cook etc, always ask me what happened on set, who was wearing what, and what the big names are like in real life.
I recently published an article about Shah Rukh Khan. I met him at a polo match in Delhi, though I have yet to shoot with him. My friend gave him a copy of my article at a fashion show, where I had interviewed foreigners who had worked with SRK; and he seemed genuinely very excited about it.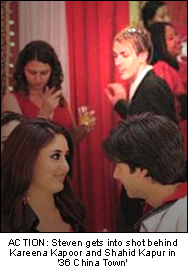 Are you hopeful of a bigger part in a Bollywood movie someday?
Of course! Although there are certain things that I feel I must do to achieve that. Learning Hindi, is of course, a necessity. I have private tuition with a wonderful teacher. I can now read and write in Hindi, but need to improve my fluency in spoken Hindi. Also, I am planning to study Bollywood dance with Shiamak Davar. Although I studied Drama in the UK, I would like to become more familiar with the traditions of dance in India.
There are many misconceptions about Bollywood, do you find yourself having to tell people what it's really like?
Ha ha. Yes all the time. Singing and dancing in the Swiss mountains, breaking into song, no kissing etc. The interesting thing, is that it is not just with my friends at home in the UK that I find myself correcting misconceptions. It also happens with my friends in India. Hindi film, especially for the Indian middle class, can be perceived in a somewhat derogatory way. In my Creative Writing class at the British Council I find myself almost trying to resell this art form to an audience that sees itself as too highbrow for such populist culture.
What's been your most memorable role so far and why?
There have been many, many interesting parts. It is always very captivating when people recognise you from certain films. Just last week, on a trip to Thailand, I was approached in a restaurant after being recognised from '36 China Town'. In terms of my most memorable role, that I feel is still to come. Watch this space!
Interview by Zakia Yousaf