 Star gears up for crunch match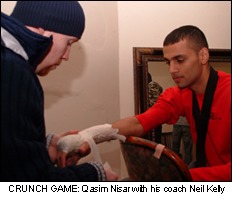 HE weighs in at a lean mean 61kg and stands at 6ft tall and to speak to you would not expect mild mannered Qasim Nisar from Bordesley Green to be a fighter.
Seven years ago Qasim who has been dubbed 'The Dream' by the fight fraternity walked into Neil Kelly's Sparkhill USKA gym to learn self defence and to get fit. Little did he or his coach Neil know at that time where it would lead to or how exciting a prospect Qasim would turn out to be.
After building up an impressive unbeaten junior record winning Midland Area, English, three versions of the British title and two versions of the European title it was all eyes on him in 2005 when he made his full contact debut.
The winning streak has continued since then with 'The Dream' powering through the rankings on route picking himself up the Midland, English and Illustrious Golden Belt title belt.
His record stands at 15 fights with no loses and 12 of those contests ending before the final bell. A knock out record unheard of for someone his age and weight.
This impressive record has put him in line for a British Title shot where he will face another unbeaten fighter in the form of Northern Irelands Sean Comisky. The Galway fighter has no concerns about coming to Qasim's back yard in
Birmingham for the fight and will have some comfort knowing that the venue is the well known Irish Emerald club in the Small Heath area.
Both fighters should feel at home with this being the place where Qasim fought his bout at. Qasim as you would expect is very confident and is excited about facing someone who poses a real threat to his reputation and unbeaten record.
"Somebody's record has got to go and that is all the motivation I need to be the best I can be going into this fight", he says.
"I have worked to hard to let anybody at my weight get in the way of me grabbing that British title. Insha Allah (God Willing) I will be victorious on the 11th"
His coach Neil Kelly is equally as confident after seeing a motivated Qasim train in the build up to the contest.

"It's going to take a very good fighter indeed to beat Qasim the way he looks at the moment and to be perfectly honest I think this kid is going all the way. The British title will be a stepping stone to bigger things. Quote me

on this, He is a star in the making."

So the scene is set and all the hard work is done. The fighters will meet on a sure to be sell out crowd at the Emerald Club, Green Lane in Small Heath

Birmingham on Sunday 11th February. The doors open at 5pm and the first fight is expected in the ring at 6pm.

For ticket information or to see Qasim in his quest to become British Champion call his coach Neil Kelly on 07976703781.